Last Updated on January 5, 2023 by windowtintlaws.us
From blocking out a little bit of light to giving you more privacy, window tint can do a lot of things for your car or truck. If you need help finding the best tinting film for your car or truck, this 2023 window tint buyer's guide has everything you need to know.
Best Window Tint Film To Buy In 2023
We have done the hard work for you and have found the best window tinting films for 2023 and have listed them below. Whether you are looking to buy precut tint, want a high-quality Ceramic tint, or simply want to give it a shot with a DIY window tint kit, we have selected a winner for each category.
Best Precut Window Tint Kit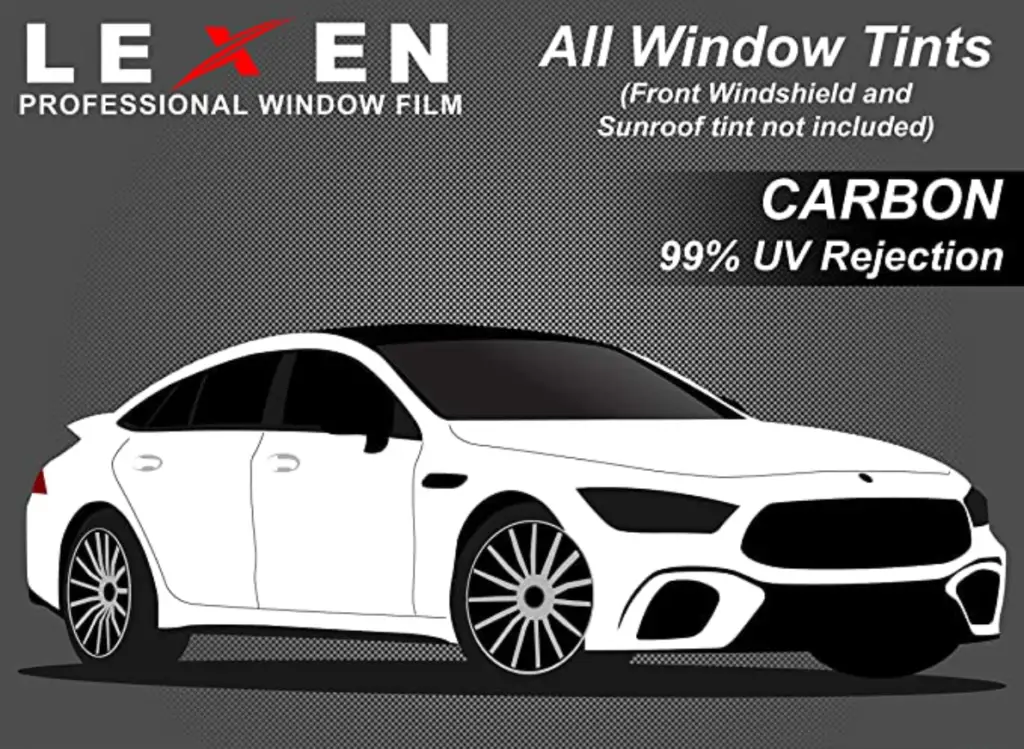 LEXEN All Windows Computer PreCut Tint Kit: If you're looking for a high-quality window tint kit that's easy to install, the LEXEN All Windows Computer PreCut Tint Kit is a good choice. The best part about this tint kit is that it's pre-cut so you don't have to deal with cutting and measuring. Additionally, this LEXEN tint is available in a wide range of shades, plus you can customize your tint so it's darker in the back and lighter in the front. As far as VLT options go, you can choose between 5%, 15%, 20%, 35% and 50%; this means you have a wide variety of options when it comes to your tint. Despite all the great features you get with the LEXEN All Windows Computer PreCut Tint Kit, you won't have to spend a fortune to get your hands on it. Depending on what you choose, this kit can cost between $34.95 and $39.95.
---
Best Ceramic Window Tint Film
MotoShield Pro Nano Ceramic Tint Film: We already talked about the advanced technology you can get with a MotoShield Pro tint film, and the MotoShield Pro Nano Ceramic Tint Film is a perfect example of that. The nano-coating that MotoShield Pro uses in its tint films is great because it gives you more protection from harmful UV rays, heat rejection, and a smooth surface. What this means is that this film is easy to install in a way that it lasts. This kit is pre-cut so you don't have to worry about cutting and measuring, which means installation is even easier. And as is the case with any ceramic tint, you don't have to worry about this film fading or losing its color the more it's exposed to the sun. As far as price goes, you'll have to spend a little bit more on this ceramic film than you will for the basic LEXEN kit.
---
Best Carbon Window Tint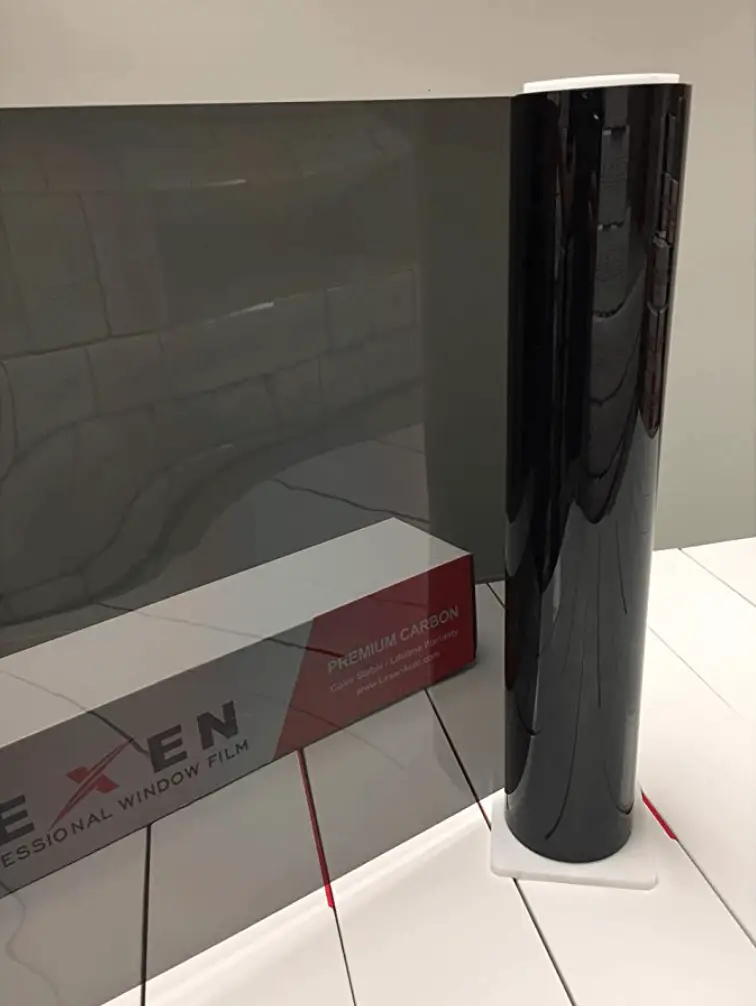 LEXEN 2Ply Premium Carbon Window Film Roll: If you're willing to spend a little bit more to make sure you're getting the best protection, the LEXEN 2Ply Premium Carbon Window Film Roll gives you premium UV blocking. Since you can choose between shades ranging from 5% all the way up to 50%, you don't have to worry about finding a shade of tint that works for you. One thing you have to keep in mind is that this is a roll of film instead of a pre-cut kit; if you want to use this film, you'll have to measure and cut it to make sure it fits all the different windows in your car. The good news is, this film starts at 20 x 100 feet, which is more than enough to handle just about any full car. Although it may cost a little more, this 2-ply carbon film is about as tough as it gets. Bonus: It's scratch-resistant.
---
GISSVOGEEK Window Tint Application Tools: One of the toughest parts about tinting your windows is the fact that installation isn't necessarily simple. If you want the best results, you usually have to hire a pro to tint your windows for you. If you are ambitious and want to give it a shot your self you can get a window tint toolkit and watch a few Youtube videos about how to tint your car yourself and potentially save yourself some money.
---
Carbon vs Ceramic Tint
Want to learn about the 6 main types of Ceramic film and why we deem Ceramic to be the king of all window tint films? Checkout this article that we have created for you where we go in depth on the topic of Carbon vs Ceramic Tint!
---
Window Tint Tips
No matter what kind of tint you're getting or how you plan on installing it, there are a few tips you should follow to make sure you're doing everything right.
From making sure you get the right tint to installing things the right way, here are some tips you can use to get the most of your tint.
Firstly, make sure you compare all your options when you're shopping for tint.
The first thing you need to understand is how dark the tint on your windows can legally be; certain levels of tint are illegal in certain states. You can find more information about the VLT level that's legal in your state, although it's a good idea to stick with 35% tint if you're worried about legal problems.
If you're not sure what the legal VLT level is in your state, you can contact your local police station and ask them what you're legally allowed to install on your vehicle.
You also need to focus on avoiding bubbles and installing your tint right.
Not only do bubbles make your tint look bad, they also limit how well you can see in and out of the windows. If you leave too many bubbles in your tint or install in unevenly, it may even peel off shortly after installation.
This is especially a problem if the weather gets bad in your area.
Depending on the type of tint you buy, you might need to replace it after a few years.
While some tint is designed to resist fading, cheaper tints tend to fade the more they're exposed to sun and eventually lose their UV-protecting abilities.
What Does Window Tint Do?
Drivers use window tint for lots of different reasons, from the style it adds to their car to the protection it provides from the sunlight.
Here are some of the biggest benefits of tinting your windows:
UV Protection: One of the best reasons to tint your windows is to give yourself protection from the sunlight. UV rays can have harmful effects on your skin and eyes, so it's important to protect yourself from them whenever you can.
Good window tint can block out as much as 99% of the UV rays from the sun.
Style: If you want to make your car look a little bit sleeker, tinting your windows is a good way to do that.
Whether you want your windows to match your car's black paint or you want the dark tint to contrast against the light color of your car, tint can give your car or truck a completely different look.
Privacy: Some people don't like the feeling of other people being able to see clearly into their car; with window tint, you get a little bit of privacy that you wouldn't otherwise have.
While you have to be careful about how dark you go with your window tint, even a mild tint will add some privacy.
Glare: When you're driving down the road and the sun is shining directly in your eyes, it can be hard to see what's ahead of you.
Tinting your windows is a good way to block out some of that sunlight so you don't have to worry about the sun getting in your eyes.
Interior Heat: If you've ever got in a car that's been sitting out in the sun for hours, you know how hot they can get. Tinted windows provide relief from the sun and heat, which keeps your car cooler and helps keep your interior from fading.
Glass Protection: Good window tint will have an adhesive layer that sticks to your windshield and helps prevent it from shattering on impact.
If a rock or branch happens to strike your window, this protection can be the difference between a shatter and a chip.
Types of Window Tint
Window tint comes in many different types, each made using different materials and designed for a different purpose.
Understanding the different types of window tint is important if you want the best results.
Factory Tint: Factory tint may be an option when you're purchasing your vehicle.
With factory tint, the windows themselves are dipped in a permanent tinting solution rather than using a film to apply tint.
While factory tint stays on well, it doesn't provide the best privacy or protection from the sun, so it's not the best choice if that's what you're after.
Dyed Film: If you're looking for a simple and affordable option, dyed film is a good choice. The benefits of dyed film include the fact that it's non-reflective and blocks the glare from the sun.
However, dyed film tint doesn't provide very good protection from the sun, so it's not ideal for UV protection.
Metallic Film: When it comes to UV protection and heat reduction, metallic film window tint is among the best.
The two things you have to remember about metallic film are that it's a little more expensive and it may interfere with cell phone signals and radio waves since it has a metallic layer.
Carbon Film: Carbon film is one of the best choices if you want to tint your windows. Carbon film window tint will protect your interior from fading, keep your car much cooler and it won't fade over time.
However, it is a little more expensive than some other options.
Ceramic Film: Ceramic film is the most expensive type of tint and for good reason. Ceramic film is the best when it comes to just about everything, offering 99% UV protection, excellent glare reduction, great privacy and effective cooling.
Best of all, it won't interfere with electronic devices. The only downside to ceramic window tint is the fact that it's the most expensive since it's the newest technology.
Features to Look For
While there aren't a ton of things to look for in tint beyond the brand and type of tint, there are some features you want to look for.
Visible light transmission (VLT) levels are the most important thing to look out for when you're shopping for window tint.
The higher the VLT of a window tint is, the more light gets let through.
The lower the VLT, the darker the tint is and the less light it's going to let through. Ultimately, the VLT you choose depends on what's legal and how dark you want your tint to be.
We have a page dedicated to window tint percentages with a cool interactive image to help you preview different VLT.
Another thing you have to consider is whether you want to use a pre-cut window tint or a roll of film.
Pre-cut window tint is nice because it's already to cut to match the dimensions of your windows, but it also costs more.
If you want to save money and you're confident in your measuring and cutting abilities, a roll of window tint works just as well.
Window Tint Brands
Choosing window tint from a good brand is an easy way to make sure you're getting a good product. Fortunately, there are plenty of good brands to choose from. Here's what you need to know about some of the top brands.
LEXEN: A company based in Catonsville, MD, LEXEN makes some of the best tint on the market. As a matter of fact, LEXEN is a Formula One authorized dealer, so they're professionally recognized as one of the best in the game.
MotoShield Pro: If you're looking for a good ceramic film, MotoShield Pro makes some of the best options on the market. The nano-coating used in MotoShield Pro films ensures that every surface is perfectly smooth and you get excellent protect for yourself and the inside of your car.
3M: No matter what type of products you typically buy, chances are you've purchased something from 3M. From Scotch tape to Post-It notes, 3M makes some of the most useful products on the planet. It should come as no surprise, then, that 3M also makes some of the best window tint on the market. If you're looking for a good combination of affordable and effective, 3M is a good choice.
SunTek: SunTek is another big name in the window tint industry that's known for consistently making quality tint. The parent company of SunTek has decades of experience in the window tint business, and that's clear when you see the quality of the tint they make.
Window Tint Pricing
It's important to think about how much you're willing to spend when you're shopping for window tint.
While some window tint is pretty affordable, you can spend a lot of money if you're looking for pre-cut, top-of-the-line window tint for your car.
Here's what you need to know about the price of window tint:
$25 and under: If you're looking for the most affordable window tint on the market, there are plenty of options available for less than $25.
However, cheaper tint tends to provide worse protection from UV rays in addition to cooling your car less.
These tint rolls may also only cover a couple of windows on your car. Worst of all, some cheap window tints don't actually have an adhesive.
$25-50: You can find a quality window tint in the $25-50 price range if you don't want to spend too much.
These tints generally come in larger rolls so you can do all your windows, plus they come with a quality adhesive so you don't have to worry about them sticking to your windows.
This is what most people choose to spend when shopping for window tint.
Over $50: If price isn't an issue and you simply want to get the best tint for your windows, you can spend quite a bit of money.
Expensive window tint can easily cost hundreds of dollars, especially if you include the cost of having them professionally installed. However, you get the benefit of near-complete UV protection and much cooler car.
High-quality tint like this is even designed to resist peeling and bubbling in addition to being easier to install on your windows.
Things to Consider
Before you install tint on all of your windows, it's important to know what kind of tint you're getting and what you're getting yourself into.
For starters, darker window tint can make it difficult to see out of your vehicle.
As nice as it is to have plenty of shade and UV protection, you don't want to sacrifice your safety on the road.
The other thing you need to consider is the legal limit for tint in your state or city; this varies depending on where you live, so do some research before you buy especially dark tint.
You also need to think about whether or not you want your tint professionally installed or whether you want to do it yourself.
You'll save money by doing it on your own, you also run the risk of installing it incorrectly and leaving bubbles in the tint.
If you really do things wrong, your tint could end up peeling off a few weeks or a month after you install it.
If you are installing your own tint, make sure you choose a film that's easy to install. If you're not comfortable measuring and cutting the film to fit your windows, you can get a pre-cut film instead.
You should also make sure you get a film with adhesive backing so it's easy to install and lasts longer.
Before you install your own tint, make sure you have the proper equipment and know what you're doing.
A quick YouTube video can show you how to apply tint, and a little bit of patience goes a long way. The most important thing is getting an even application with no bubbles so the film doesn't peel off.
Window Tint FAQs
Q: Is window tint legal?
A: Legality is an important issue when it comes to window tint. After all, the last thing you want is to be pulled over and fined because you were trying to get some privacy or protect yourself from the sun. The good news is, tinting your windows is legal as long as you do it within the confines of the law. You can learn more about your state's VLT level regulations for window tint by contacting your local police station or doing some research online. In most cases, 35% tint is safe for legal use.
Q: Why are there bubbles in my window tint?
A: If you aren't careful when installing tint on your windows, there's a chance that bubbles may form. Since window tint attaches to your window with an adhesive, you have to make sure there aren't any air bubbles between the tint and the window. You can do this by using an object to smooth the tint out until bubbles are removed.
Q: Why is my window tint purple?
A: Over time, window tint tends to fade and lose some of its color. While your window tint may have started out with a black or grayish tint, it can wear down and eventually fade to a sort of purple color. If you notice your tint starting to fade, it could be a sign that it's not protecting you from UV rays and it's time to invest in new tint.
Q: How long does window tint last?
A: As is the case with anything, your window tint has to be replaced after a certain amount of time. That being said, it's important to know how long your tint should last and when it's time to replace it. In general, window tint is designed to last about 5 years; some tints may last up to 10 years. Keep in mind that this also depends on how much sunlight your tinted windows are exposed to over the life of the film.
The Verdict
Shopping for window tint isn't rocket science, but there are some important things you need to remember.
For starters, you have to make sure you're getting the right tint. As long as you're keeping things like VLT level, brand and UV protection in mind, you should be fine with the tint you're getting.
Even a less expensive tint can protect you from UV rays and help keep your car a little bit cooler.
What's really important is making sure your tint is legal and that you're having it installed the right way.
Bubbles in tint aren't just a cosmetic problem, they can cause your tint to peel off your windows early. For the best results, you should take your vehicle to a professional and have them apply the tint.
If you want to add a little bit of privacy, UV protection and heat resistance to your car, tinting your windows is a great way to go.
As long as you follow our guide, you can be confident you're getting quality tint that will protect you from the sun and last for years to come.