Heat guns are tools that can be used in a variety of professional service scenarios. And while some people will opt for a hairdryer because it "does create heat", a hairdryer does not have the potential to generate the necessary amount of heat required in specific applications, such as car wraps or tinting your car window.
When used correctly, Heat Guns can be used to tint car windows, remove paint, wrap vinyl, bend plastics and much more.
Heat Guns are a must-have if you are a professional window tinter.

Hairdryers can only create heat of one hundred to two hundred degrees Celsius (100C to 200C), but a special purpose automobile heat gun can produce heat of one hundred to seven hundred and fifty degrees Celsius (100C to 750C).
When the two devices were compared, it was discovered that heat guns have more temperature settings than a typical hairdryer.
Hairdryers typically have three heat settings, which is why it (not surprisingly) ranks lower than a heat gun in heat rankings. This difference in heating power is what would make a significant impact in a variety of professional application scenarios.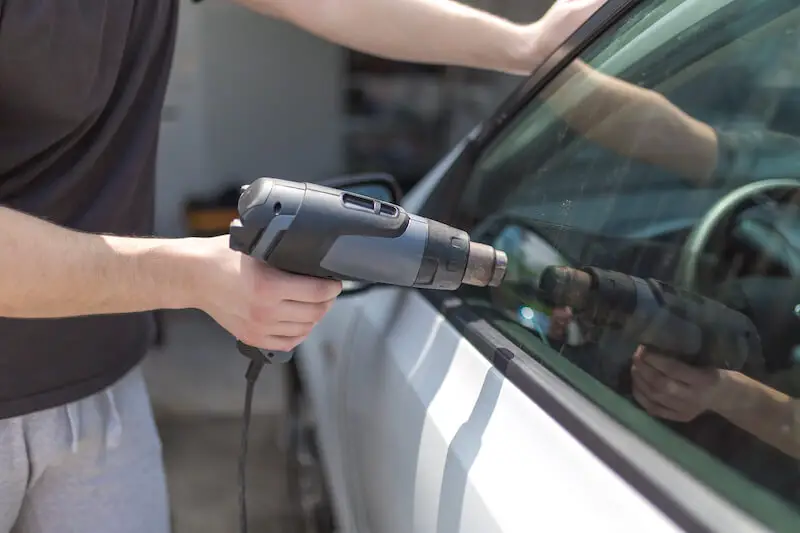 With the plethora of brands and tools available in the market, it can be daunting for anyone to choose the best heat gun, and that's why we have curated this list of Heat Guns for your review. We tested out multiple heat guns for different purposes, and here are our top 5 favorite and most versatile heat guns on the market.
If you want to know more about heat guns, keep on reading.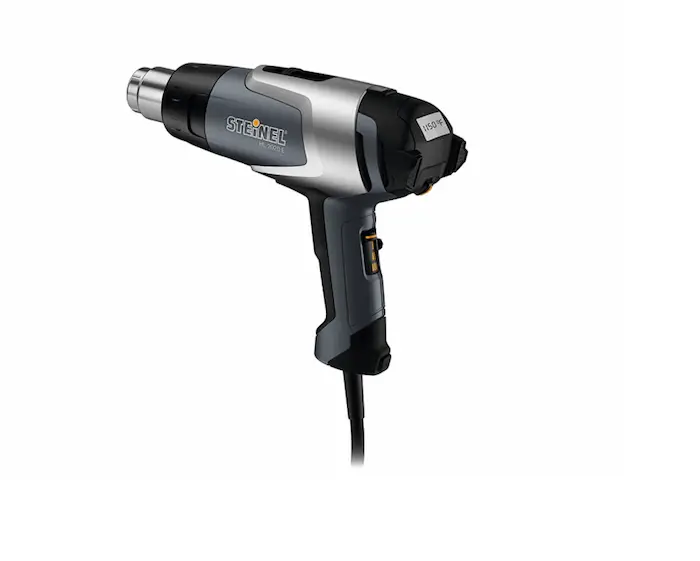 The first product in our list is this electronically controlled heat tool that delivers 1,600 Watts of power and is handled via a toggle to set the temperature between 120 and 1,150°F. It also has a handy LCD for easy usage. The residual heat indicator alerts the user when the Outlet nozzle remains hot, and the thermal cut-out minimizes overheating, guaranteeing worker safety. The HL 2020 E's controllable heating and strong blower make it an excellent choice for almost any application. The HL 2020 E multi-purpose heat gun has double insulation, a 6ft industrial rubber power cable that is easily replaceable, and a built-in mounting ring for simple storage. It is designed specifically for experienced floor layers, electricians, and mechanics. 
FEATURED HIGHLIGHTS: 
It is a powerful heat gun and can be used for industrial purposes. 
It can deliver 1600 watts of power. 
It boasts a sleek and balanced appearance, an ergonomically designed pistol grip, and an optimal weight balance for fatigue-free use.
DeWalt's heat gun includes a changeable temperature control dial, two fan speeds, and two nozzles, making it suitable for many household jobs. It also has a durable, shock-resistant casing, a 45 minute run-time per charge, and a pleasant ergonomic grip to reduce tiredness after extended usage periods. The tool is small, lightweight, long-lasting, and easy to use. It heats up rapidly and consistently between 120 and 990 degrees Fahrenheit. It is a cordless tool that is simple to use. The overload protection incorporated into the tool keeps it from overheating and catching fire. It also includes a built-in kickstand for sturdiness and a hanging ring for easy storage. 
Unfortunately, this heat gun is not suitable for industrial usage. It may also take a few moments for the tool to cool down. Furthermore, the settings are in tiny font and are difficult to read. However, it is an excellent pocket-friendly heat gun for small jobs. 
FEATURED HIGHLIGHTS: 
It is a compact yet durable heat gun 
It comes with a lock-on button for easy usage  
It also has a lock-off trigger to engage manual operation 
It can run for 45 minutes per charge 
The Master Appliance 10008 Master-Mite Heat Gun is a high duty benchtop heat shrink system which is a small, lightweight, flameless instrument that may be used for heat shrinking and a variety of other industrial purposes. The heat gun provides the operator with 3.8 CFM, easy handling, and solid control. Master-Mite Heat Guns are lightweight and are designed to accomplish tasks that do not require a lot of airflows. They have an adjustable stand, a typical 650°F (343°C) heating source, and a heat shrink attachment as usual. The maximum airflow rate is 3.8 CFM and 700 FPM.  
With a weight of about 28 ounces, the Master-Mite may be handled in one hand for tasks like vinyl repair or drying film without generating operator fatigue. Because of the adjustable stand, the operator may operate with both hands-free. The brushless, continuous-duty motor's quiet operation and low power demand (4.5 amps maximum) provide a quiet working environment. 
FEATURED HIGHLIGHTS: 
It provides a quiet working environment due to quiet running motors.  
It is a lightweight and compact device weighing only 28 ounces 
It is a high duty benchtop heat shrink system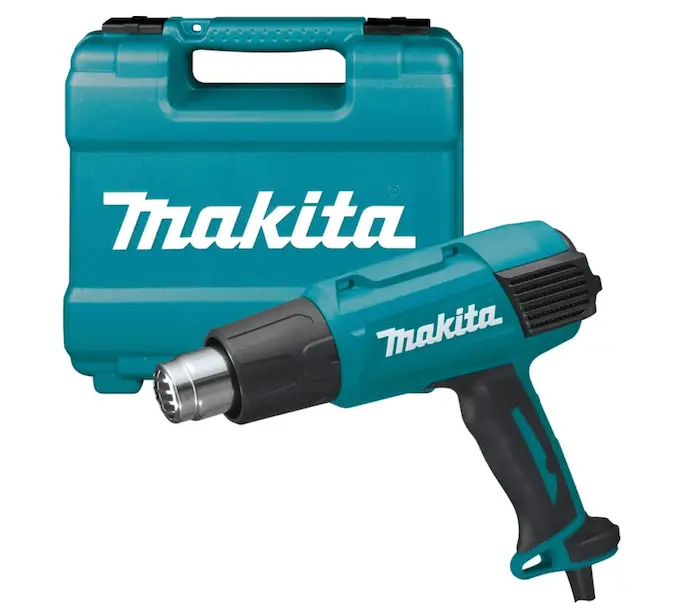 The Makita Variable Temperature Heat Gun is notable for its temperature range and various airflow settings. You may select your temperature between 122 and 1022 F using the adjustable speed dial on the rear of the instrument to suit a wide range of applications. Because work requirements vary more than only by temperature, Makita provides a 14 CFM high and a 7 CFM low option on the rear of the grip for more sensitive work. This Heat gun is helpful in various industries, including vehicle wraps and tinting, removing lacquer, paint, and varnish, melting frozen pipes, releasing tile and putty, re-melting glue, and many more. 
The heat gun's rear flattens down to allow it to stand with the hot end up, protecting the item it's sitting on and making nozzle changes easy. Because the dial revolves behind the rear stand, it does not affect steadiness. This heat gun weighs just 1.5 pounds. It comes with a 6.6-foot cord and stores neatly in a sturdy plastic container. 
FEATURED HIGHLIGHTS: 
It has a variable temperature dial with nine different settings. 
It also comes with two airflow settings for better versatility. 
It is a compact and easy-to-use design with a rubberized pistol gripping handle.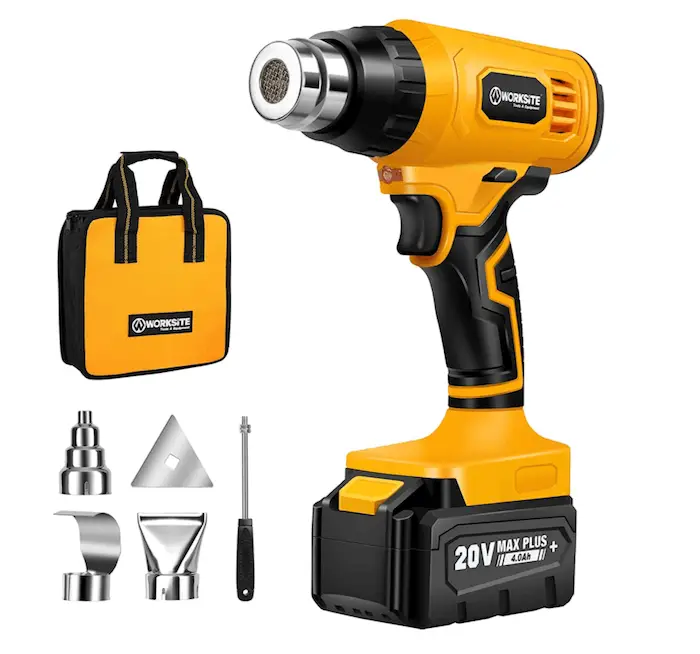 If you want a cordless heat gun that performs just as well as those with a power cord, the Worksite Cordless lithium-ion battery heat gun is a good option. This portable heat gun's heating element has a maximum temperature of 1000°F. Because of this functionality, it is a solid rival to any professional heat gun on the market. Such a powerful gadget must be protected. As a result, the gadget has a folding kickstand. This kickstand will assist you in resting the device in a steady posture while working and cooling it down after usage. The temperature can then be adjusted based on the sort of task at hand. Furthermore, the gadget includes a Hex grip with micro-texture that ensures a comfortable grasp on the device. 
FEATURED HIGHLIGHTS: 
It has a lock-off button to prevent the heat gun from being unintentionally triggered. 
It comes with four different nozzles for multiple purposes.  
When operating in a dark setting, it includes a built-in LED to light low-lit regions. 
HEAT GUN WINDOW TINTING FREQUENTLY ASKED QUESTIONS:
Heat Gun Vs Hairdryer
In a nutshell, while they both may emit heat, the use cases are very different. A hairdryer may have a few different heat settings while a heat gun will come with an adjustable temperature gauge able to meet exact temperatures, an adjustable nozzle for different size surface areas for hitting those tight spaces with even great control. The balance of a heat gun means you can soften the glue or adhesive of tint film so you can avoid burning it.
How much heat does a heat gun produce? 
The quantity of heat emitted by various types of heat guns varies. Infrared guns, for example, are suitable for minor jobs and may generate heat ranging from 400°F to 600°F (safer than other heat gun types). On the other hand, industrial heat guns are more intense and their heating element can produce temperatures of up to 1800° Fahrenheit. Electric heat guns can operate at temperatures ranging from 600° to 1000° Fahrenheit, while gas-powered heat guns may operate at temperatures ranging from 800° to 1100° Fahrenheit. 
Are heat guns particularly noisy? 
Heat guns are often noisy, comparable to the noise level of a standard or considerably quieter hairdryer. The noise frequency is determined based on how solid the heat gun is and how it operates. Different models provide varying heat levels. However, utilizing the gun at higher settings will make it louder. As a result, the noise level of a particular heat gun is determined by your functional level. 
Why do heat guns emit smoke when in use? 
Smoke is commonly produced due to the combustion of production oils (or leftover oil) during the initial start-up of a tool. This smoke dissipates in a matter of seconds or minutes. If the smoke persists after each use, it's time to return the device to the store where you purchased it or notify the manufacturer of the issue with your heat gun equipment. Most heat guns come with safety features in place, such as a deflector nozzle and a heat overload protector to avoid any serious issues.
How do I use a heat gun to remove the old paint? 
Select a nozzle that focuses the hot air and apply it to the painted surface. This heats the paint, making it easier for stripping paint and removing film. Similarly, you heat the wallpaper, which dissolves the backing adhesive, enabling you to remove the wallpaper off the wall. With just a few seconds of higher temperature heat level and the film should start to peel away.
FINAL THOUGHTS: 
Having a heat gun that is designed for use in automotive applications may make your job much simpler. Whether you are purchasing equipment for your new tinting business, or simply trying to DIY your first tint job, avoid using a hairdryer since it will simply not heat up to the required temperatures. All of our suggestions are suitable for automobile usage and are geared towards those with a range of budgets.