Last Updated on August 23, 2022 by windowtintlaws.us
Ryobi Heat Gun: Facts, Uses, How To, Review
"It's rare when I think a tool is perfect, but Ryobi just made their already perfect tool even more perfect. The all-new, updated Ryobi Cordless 18V Cordless Dual Temperature Glue Gun is simply awesome!"
A heat gun is known for its usefulness in a number of professional and DIY applications. That's the reason almost every window tinter, craftsman, DIY enthusiast, and plumbing professional owns one. 
Whether it's loosening and stripping tint film or paint, bending or welding PVC pipes, thawing frozen pipes, or any other similar project, a heat gun comes in handy. 
For those who are into automotive window tinting, a heat gun is a must-have tool.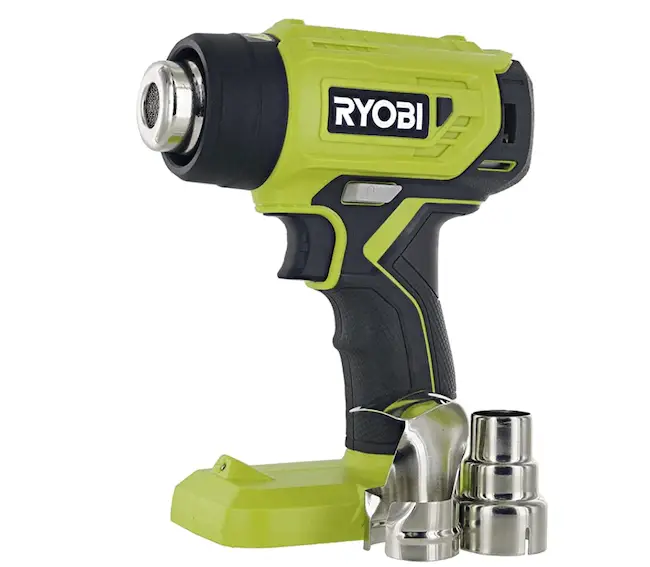 In fact, one of the integral steps of professional window tinting is to use a heat gun for heat-shrinking the film. Using a heat gun helps smoothen the applied film and get an adorable appearance.
Ryobi Cordless Heat Gun
Now the question is which heat gun you should buy and what special features are important to you? There are several brands manufacturing heat guns with varying features.
The Ryobi Cordless heat gun is a well-known option in this category and is trusted by a number of customers around the world. Many professionals consider the Ryobi heat gun to be their 'go to' option.
If you don't already, you might be thinking of owning a heat gun if it's not already in your set of cordless tools.
Video Review of the Ryobi Heat Gun
Some Facts about Ryobi Heat Gun
How the Ryobi Heat Gun Works?
The Ryobi 18v one heat gun works much like a hairdryer, but certainly, it is capable of generating more hot air due to the purpose-built max temperature range.
It's a Cordless Heat Gun
As a cordless tool, this heat gun is considered easy-to-handle equipment that can accomplish a number of DIY and professional projects. 
As it's a battery-powered heat gun, it can help you reach the edges and tight corners where the traditional tethered power tools could be an issue. A corded heat gun is more useful when you don't have to access tight to reach spaces.
Ryobi Safety Lock
A distinguishing feature of this product is its safety lock for the trigger making it extremely rare to cause any accidental fire. 
Ryobi Nozzles
Ryobi heat gun comes with nozzles that can fix well on the heat gun for various purposes.  If any heat gun is providing these nozzles along, this means you will find plenty of help in instances where you want focused or direct heat on a specific object or spot jobs. These nozzles also help in accurately controlling the temperature and directing the flow of heat.
There are two included nozzles in the Ryobi heat gun package,  the deflector nozzle, and the concentrator nozzle. The deflector nozzle helps achieve efficiency and effectiveness in jobs such as pipe thawing and shrink tubing.
The concentrated nozzle also called pipe thawing concentrator nozzle is effective in intensifying heat at a specific point.
LED Work Light
The Ryobi heat gun features an LED light which makes your work super easy accurate by improving your visibility in the dark.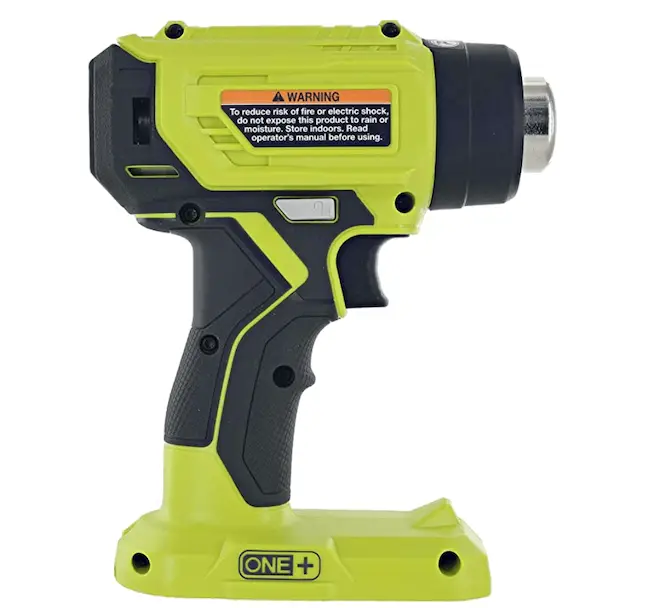 What Can You Use a Heat Gun for? 
This gun can be used for multiple application which includes but are not limited to;
Automotive window film tinting. The heat can also reduce your time and effort in removing window tint.
Softening various types of adhesives
Assist in paint in stripping since it loosens up paint and helps you pull it effortlessly. Similarly, it also helps caulking, putty, and wallpaper removal
Heat shrink plastics for weatherproofing or wrapping
It helps remove hard stickers, welding as well as bending pipes
It assists in heating shrink tubing for electrical work and even helps to lossen rusted nuts and bolts
Most of all, many people face the issue of frozen pipes in the winter and your heat gun can assist with that. A heat gun like Ryobi can warm the pipes to help them thaw and improve water flow. 
Assist in other household DIY projects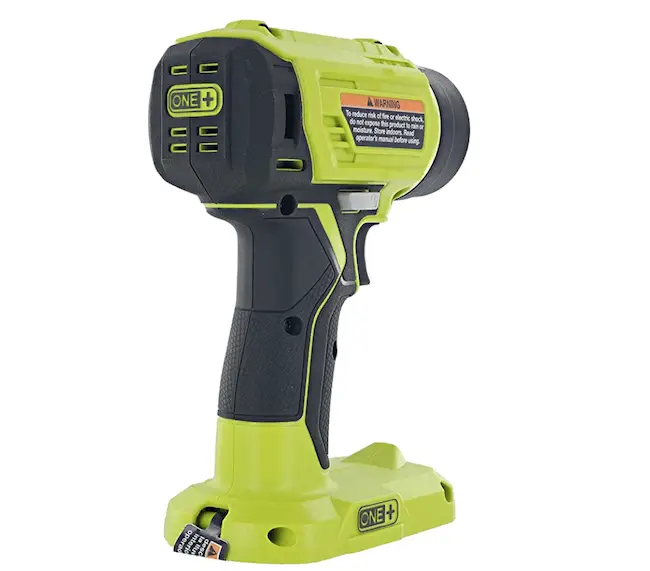 How Hot Can The Ryobi Heat Gun Get?
Checking the temperature range of the heat gun is important since it determines what job you can perform with your heat gun. 
At maximum, the Ryobi heat gun gets hot to 875 Degree Fahrenheit.  This temperature is considered pretty good to handle jobs such as heating shrink wrap, drying joint compound, or shrink tubing.  Also, you don't have to wait much longer till it reaches operational temperature and you start working.
It takes about 10 seconds to reach the temperature where it can start working efficiently.
However, it is always suggested that while you are dealing with a heat gun, make sure that you are able to maintain a space of nearly 1-inch between the nozzle of the gun and the work area to avoid any burning or flaming. 
What is a heat gun Power Tool?
Before we understand how a heat gun is considered a power tool, it's necessary to understand what a power tool is? So, all those tools which are driven by an external power source and not operated by manual effort, are known as power tools.
Because technically, a heat gun runs off of electricity to get hot and function, it's considered a portable power tool.  
How accurate is the Ryobi Heat Gun?
Just like other Ryobi tools, the Ryobi heat gun is a worthy investment, based on some recent customer reviews. Since it doesn't get excessively hot all at once, it is ideal for most DIY projects demanding precision and care, such as window tinting.
But some people do think that it consumes a good amount of battery. Also, it's true that for some projects you may need a high temperature, say 1,000 degrees Fahrenheit or above.
In this case, you may switch to other Ryobi corded counterparts which are even more powerful and versatile. 
Ryobi Heat Gun: The Verdict 
According to the average customer ratings, Ryobi heat gun is the ideal product for many projects involving paint stripping, plastic bending, tint film shrinking, and similar such jobs.
This heat gun is more affordable considering its multipurpose applications and effectiveness at the same time.
The maximum temperature is 875 degrees Fahrenheit making it quite suitable for various jobs.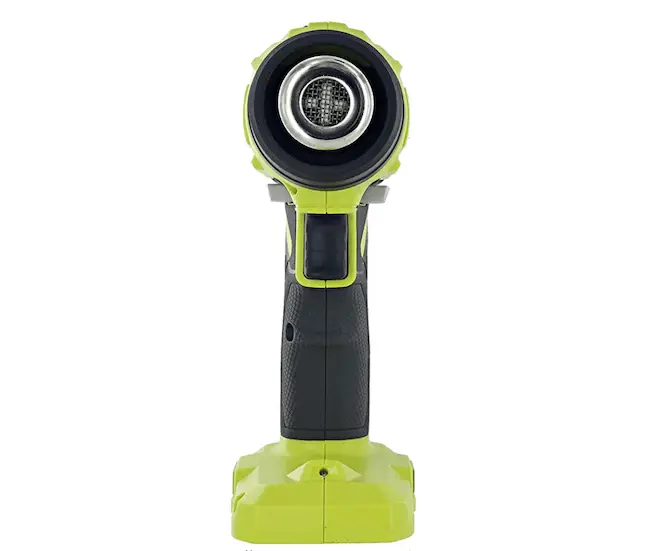 Also reaching operating temperature is not a long-awaited process. The availability of additional nozzles makes the tube shrink and in helping pipe thaw. As promised, this heat gun can run for up to 20 minutes as soon as it is paired with a Ryobi P193 18V 6Ah battery pack.
However, the battery is not included in the package and you need to buy one.
Also for instances when it's dark or you need additional light, the LED work light illuminates the workspace for increased visibility and proves to be really helpful.
Some people may dislike the additional safety locks but they are for your own benefit in minimizing most risks associated with heat guns. 
Conclusion
The benefits of the Ryobi are numerous compared to the product's low cost. The best part is its safety feature which helps you prevent any kind of hazards.