Last Updated on January 5, 2023 by windowtintlaws.us
Whether it's time to replace your windshield wiper blades due to normal wear and tear, you need different wiper blades for weather like snow and ice, or you're ready to update wipers for a streak-free windshield, you came to the right place.
Windshield Wiper Replacements 2023
Looking for a set of replacement windshield wipers? Maybe the wiper arm on yours are not cleaning the windshield like they used to? Did you know, car professionals recommend replacing your wipers every six months? Keeping your windshield clear is key for any safe driver.
This review will cover the most popular windshield wiper blade options on the market in 2023. 
Below is a list of the top windshield wiper blades available today, from conventional blades to rubber or hybrid blades. Check out each one, then decide which windshield wiper blades are best for your vehicle.
There are a few key factors to consider in the search for the best windshield wiper blades including wiper blade material, weather conditions, easy installation and the wiper arms.
Plus, it's important to check for size and compatibility with your windshield.
Most windshield wipers are constructed with two simple elements: wiper arms and blades.
A beam-style wiper blade is either made of silicone, rubber, or a hybrid of the two.
If you live in a cold climate, or extreme weather conditions like harsh snow or rain, a durable windshield wiper is the best choice to prevent snow and ice build-up. 
Some wiper blades have a water repellent coating which will make it much easier to see out of the windshield while it's raining.
But, if you don't expect extreme weather, a traditional wiper and beam blade with a conventional or metal frame will do the trick. 
Consider the wiper installation process before you buy, as well. Make sure that your car or the blades are fitted with the appropriate mechanisms to attach together making installation easy. 
Some windshield wipers are very easy to install and come with installation instructions. Other wipers come in separate pieces (wiper blades, and wiper arms) so they require a bit more experience for installation.
The RainX wipers are great for a streak-free, clean and smooth wipe. They have low friction and are durable with various pressure points. These wiper blades are of great quality and produce clear visibility when driving.
The RainX blades are very easy to install, even if you've never installed wiper blades before. They come with a pre-installed small J-hook adapter, so it's simple to connect them to a side pin and wiper blade arms.
RainX wipers are great because they've got built-in rain/water repellency. Driving in rain won't reduce your visibility if you're using these top-notch wipers. They're also designed with just the right curvature to give a smooth wipe and leave no streaks behind. 
The best part of these blades is the brand. Since they're produced by RainX, you can trust that the blades are good and that if for some reason they don't work, RainX will replace them. 
RainX wipers have a great reputation and are an optimal windshield wiper choice for most vehicle types.
Feature Highlights:
Natural rubber components 
Vehicle specific fit
Streak free wipe with multiple pressure points
Galvanized steel frame
Crack resistant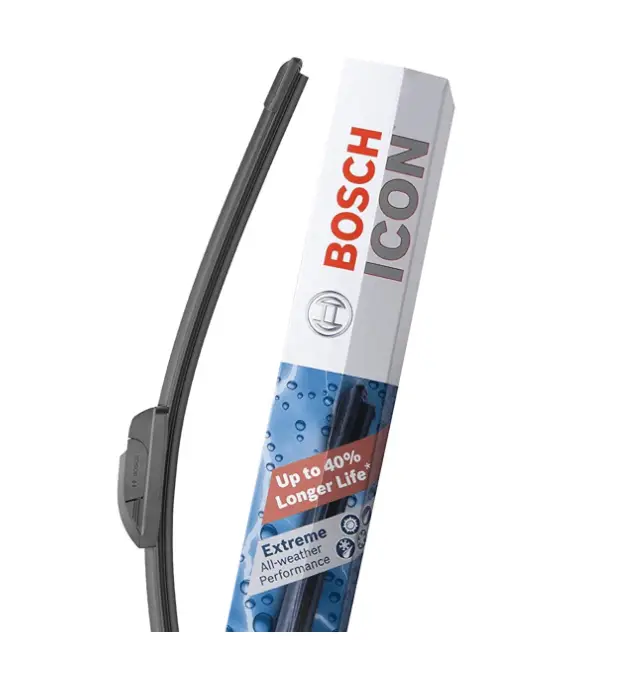 These wiper blades are great for extreme weather and still deliver exceptional wiping performance regardless of harsh rain or snow. In fact, they're called 'all-season' wipers and are unaffected by ice build-up on the windshield.
The Bosch ICON wipers are constructed with tension springs, which make for a flexible blade. They are also precision fit, and customizable to your vehicle specs. Each blade is made with natural rubber but treated with graphite to reduce friction on the windshield.
Installing these blades is easy since J-hooks are included, so you don't have to worry about paying a mechanic to replace your wipers. 
These are a great choice if you frequently drive through heavy snow or rainy climates. 
Feature Highlights:
Natural rubber components 
FX dual rubber resists heat and ozone deterioration 
Easy to install
Produce optimal visibility
Tension spring technology
The OEM windshield wipers are a good choice for all-season driving. They are made of natural rubber, plastic, zinc, and alloy. These are excellent wipers for utility vehicles. 
These windshield wipers are durable and they're quiet, which means even in rain or snow they'll provide clear vision without disrupting you with a loud noise.
The OEM wipers are easy to install with J-hooks and have a seamless fit on the windshield glass. This way, there are no gaps or missed spots when wiping your windshield. 
These wipers feature aerodynamic technology and powerful stain removing force. That means rain, snow, ice, or other materials will be easily wiped away. 
Feature Highlights:
J-hook connection
Natural rubber and memory steel spring
Conforms to windshield curvature 
Aerodynamic shape
Streak free wiping
The AERO wipers are a common choice when it comes to wiper replacement. This product comes with rubber refills when it's time for replacement, and includes a warranty in case they don't hold up.
These AERO windshield wipers are easy to install and connect to the vehicle J-hook. Plus, they come with easy-to-follow instructions to make installation even more simple.  
The wipers are durable and pass quality control tests for all seasons, including up to 1 million wipes! This is impressive for such a competitively priced wiper.
They also feature a flexible spine design so the wipers never lose contact with the windshield. These wipers are silent, too. That means there's no noise when wiping rain, snow, or ice from the windshield. 
Feature Highlights:
Rubber and teflon coating
1 year warranty included
Aerodynamic design 
Smooth and silent wiping performance
J-hook adaptable
The TRICO blades are all-weather beam blades, so help keep visibility clear even in harsh weather. The blades are easy to install on a wide variety of vehicle types. 
The curvature has a memory feature with a precision wiping edge. This makes for a streak-free wipe and blades that conform to the specific curvature of your windshield. The exclusive tension spring technology creates a custom arc contoured to your vehicle. 
There is limited wind lift or clogging with these wipers, especially during ice. They have good performance while wiping. Installation is easy and there are no brackets or hinges. 
Feature Highlights:
Steel components
Aerodynamic design
Tension spring technology
Easy to install
How often should I replace my wiper blades?
Generally, it's a good idea to replace windshield wiper blades every 6 to 12 months. This of course depends on the weather conditions where you live, the quality of your wiper blades, and how frequently you use the wipers. If you live in a place with little to no rain or snow, it's likely that your windshield wiper blades will last longer. On the other hand, if you live in a place with harsh winters or extreme rain, wipers will probably need to be replaced more often. The better quality wipers you buy, the less you'll need to replace them. Some wipers are designed to wipe up to one million times!
How will I know it's time to change wiper blades?
The 2 most tell-tale signs that wipers need to be replaced are streaking and an overall lack of a clean windshield.
If wipers are leaving streaks on the windshield, or do not provide clear visibility to the driver when it's raining, it is probably time to replace them.
In addition, if snow or ice does not come off the windshield easily, you may want to opt for weatherproof wipers or all-season wipers that will easily wipe through snow or ice. 
How To Change Windshield Wipers
Installing windshield wipers at home is fairly simple. Most wipers and blades are equipped with the right features to easily hook to any vehicle.
Often, this type of hook is called a J-hook, and replacement blades are designed to attach to your car without too much effort. Different wiper brands also usually include an instruction manual or guidance for step-by-step wiper blade installation. 
What size windshield wipers do I need?
A few important features to consider before making a windshield wiper purchases are the size and compatibility with your vehicle.
If they are not the right model or size, they may not work or attach properly to your car. Be sure to check your car owner's manual before buying to make sure the windshield wipers will fit.
Apart from the size and compatibility features, consider buying wipers that meet the weather conditions where you use the vehicle, so opt for rain, snow, or all-weather wipers if you anticipate harsh weather.
Closing Thoughts On The Best Windshield Wiper Blades 2023
There are tons of great options when it comes to windshield wiper blades for your car. 
If you need to replace your windshield wipers, you can save time and money by ordering them online and installing them yourself. Just be sure to order ones that are the right size and compatible with the hook on your car. 
The above wipers are all great and make our top car windshield wiper blade list in 2023. 
Whether you have harsh weather or a specific windshield curvature, these windshield wipers are premium options.