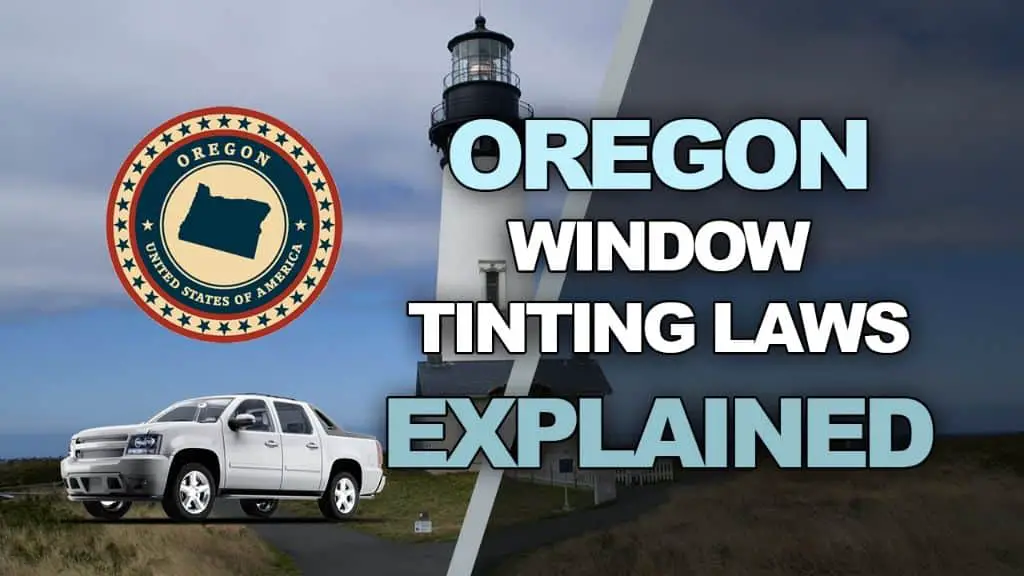 OREGON TINT LAW 2023 (OR)
Oregon Tint Law – Legal Tint Limit For Passenger Vehicles
Front Windshield: Non-reflective tint is allowed on the top 6 inches of the windshield.
Front seat side windows: up to 35% tint darkness allowed
Back seat side windows: up to 35% tint darkness allowed
Rear window: up to 35% tint darkness allowed
On this page we have done our best to collect all of the legal information necessary about the 2023 Oregon tint law, including how dark the tint is allowed to be and how reflective the tint is allowed to be in Oregon. Aside from the basics, like tint percentages, there are also additional car window tinting rules and regulations in Oregon that we have made available.
Oregon window tint law was first put into place in 2003 with Oregon being the 42nd of the 50 states to enact these tinting laws.
What does VLT Mean according to Oregon State Law
The percentage of light that a window tint film allows to pass through your car windows is called the VLT (Visible Light Transmission), and each state has different legal allowable limits. The amount of light allowed to pass through your film and glass in Oregon is very specific to the state and is different for Passenger Vehicles and Multi-Purpose Vehicles.
A HIGHER VLT means that more light is allowed to pass through the window tint film.
Example: a 75% tint will allow 75% of the light to pass through whereas a 5% tint will only allow 5% of the light to pass through, making the 5% tint a much darker film.
HOW MUCH DOES CAR WINDOW TINTING COST? The cost of tinting your car windows can be very affordable. If you want to learn 

how much it costs to tint your car, click here

.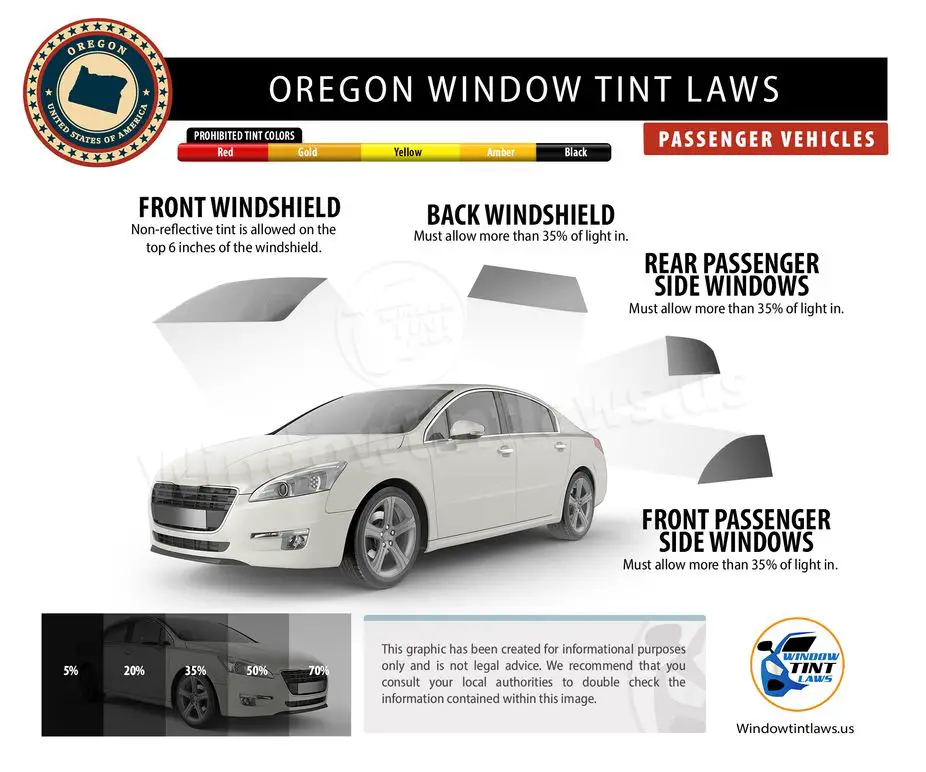 Oregon Tint Law – Legal Tint Limit For Multi-Purpose Vehicles
Front Windshield: Non-reflective tint is allowed on the top 6 inches of the windshield.
Front seat side windows: up to 35% tint darkness allowed
Back seat side windows: Any tint darkness can be used
Rear window: Any tint darkness can be used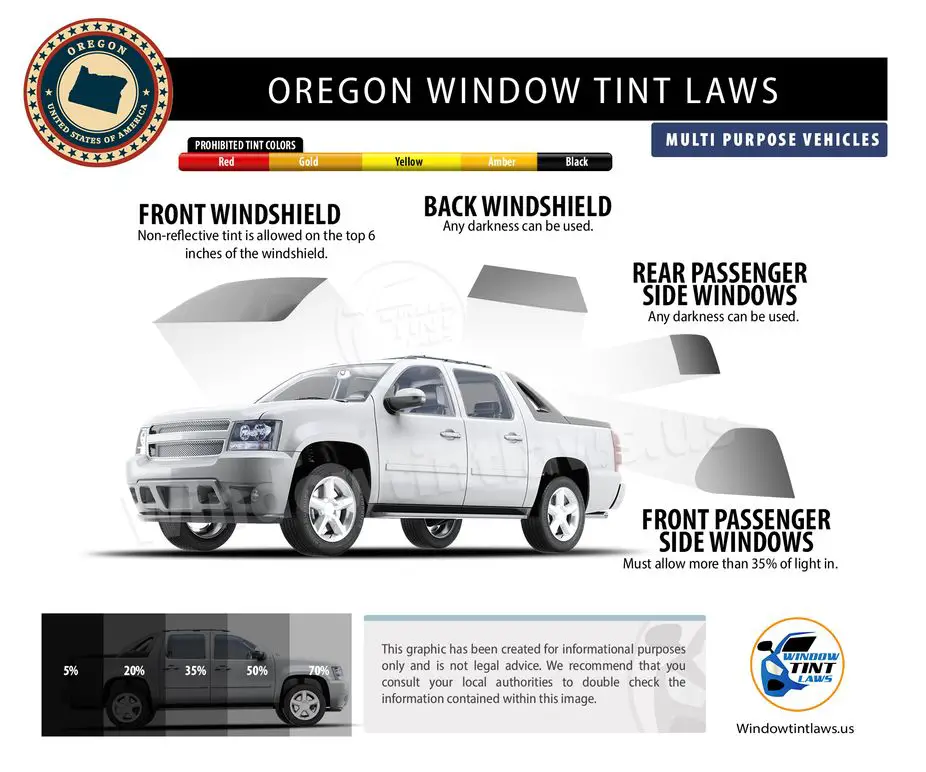 Other Oregon Window Tint law Rules And Regulations:
Oregon has a few other important things that you will need to consider regarding window tinting and we recommend that you check them out before deciding whether or not you tint your windows:
Do I have to have side mirrors in Oregon? If any window behind the driver is tinted, dual side mirrors are required.
Is colored tint illegal in Oregon? All tint colors except Red, Amber, Gold, Yellow and Black are allowed in Oregon
What are the Window Tint Certification Rules in Oregon? Tint installers must provide you with a certificate stating light transmittance and reflectance.
Do I need a certified sticker from the company installing my window tint in Oregon? No sticker to identify legal tinting is required.
Are there Medical Exemptions in Oregon for Window Tint? Oregon allows medical exemptions for darker tint.
Always remember that Oregon tint laws can change on a daily basis and these rules and regulations may be interpreted differently on a city to city or county to county basis. We recommend double-checking the information contained on this website with your local DMV or local law enforcement agencies for accuracy. This information relating to window tint laws in Oregon was last updated on January 5th, 2023. Tinting laws in Oregon were enacted in 2003. In case any of our info provided is not up to date or correct be sure to contact us so we can fix it. Thanks!
---
Oregon permits window tint medical waivers. Lower light transmission tint may be installed on the side and rear windows of a vehicle registered in the name of the person, legal guardian, or household member.
An affidavit from a licensed physician or optometrist, a prescription, or a letter on the practitioner's letterhead must be carried in the vehicle at all times and presented to police officers if asked. This letter or notarized affidavit must state the physical condition that requires darker window tint.
No permits are issued by DMV / Department of Transportation, and the documents above are enough to qualify for exemptions.
The tint installer must also provide you with a certificate stating the total light transmission on windows.
For more information regarding window tint medical exemptions in _____ you can check out this resource:
---
---
State of Oregon Information
Oregon is a state in the Pacific Northwest region of the United States. It is located on the Pacific coast, with Washington to the north, California to the south, Nevada on the southeast and Idaho to the east. The Columbia and Snake rivers delineate much of Oregon's northern and eastern boundaries, respectively. Oregon is the 9th most expansive and the 27th most populous of the 50 United States. Salem is the state's capital and third-most-populous city; Portland is the most populous. Portland is the 29th-largest U.S. city, with a population of 603,106 (2012 estimate) and a metro population of 2,262,605 (2011 estimate), the 23rd-largest U.S. metro area.
What is the Capital of Oregon
The capital of Oregon is Salem
What is the population of Oregon
The population of Oregon is 4,217,737 according to Wikipedia as of 2019.
What is the area of Oregon
The area of Oregon is 98,381 square miles and ranks as the 9th largest state in the United States!
Check out Oregon's Wikipedia page to learn all kinds of cool facts about the state!
If you want to learn more about the laws in Oregon check out their official Website Here
What are the main cities located in Oregon?

Portland, Bend, Eugene, Salem, Beaverton, Corvallis, Medford, Hillsboro, Ashland, Lake Oswego, Grants Pass, Coos Bay, Klamath Falls, Oregon City, Newport, Astoria, Seaside, Lincoln City, Cannon Beach, Gresham, Tigard, Roseburg, McMinnville, Fossil, Brookings, The Dalles, Hood River, Albany, Florence, Springfield, Redmond, Milwaukie, La Grande, Pendleton, Bandon, Newberg, Tualatin, Sherwood, Wilsonville, West Linn, Helix, Sisters, Boring, Baker City, Power City, Forest Grove, Tillamook, Prineville, Minam, Hermiston
What are the main counties located in Oregon?

Baker, Benton, Clackamas, Clatsop, Columbia, Coos, Crook, Curry, Deschutes, Douglas, Gilliam, Grant, Harney, Hood River, Jackson, Jefferson, Josephine, Klamath, Lake, Lane, Lincoln, Linn, Malheur, Marion, Morrow, Multnomah, Polk, Sherman, Tillamook, Umatilla, Union, Wallowa, Wasco, Washington, Wheeler, Yamhill