Alabama window tint law 2020 (AL)
Alabama Tint Laws - What does VLT Mean according to Alabama State Law
The percentage of light that a window tint film allows to pass through your car windows is called the VLT (Visible Light Transmission), and each state has different legal allowable limits. The amount of light allowed to pass through your film and glass in Alabama is very specific to the state and is different for Passenger Vehicles and Multi-Purpose Vehicles.
What is the Legal Tint Darkness Allowed For Passenger Vehicles In Alabama:
Front Windshield: Non-Reflective tint is allowed on the top 6 inches of the windshield
Front seat side windows: up to 32% tint darkness allowed
Back seat side windows: up to 32% tint darkness allowed
Rear window: up to 32% tint darkness allowed
What is the Legal Tint Darkness Allowed For Multi-Purpose Vehicles In Alabama:
Front Windshield

: Non-Reflective tint is allowed on the top 6 inches of the windshield

Front seat side windows

: up to 32% tint darkness allowed
Back seat side windows: Any tint darkness can be used
Rear window: Any tint darkness can be used
Other Alabama Window Tint Rules And Regulations:
Alabama has a few other important things that you will need to consider regarding window tinting and we recommend that you check them out before deciding whether or not you tint your windows:
Side Mirrors: No restrictions.
Window Tint Color Restrictions: All tint colors are allowed in Alabama
Certifications: Manufacturers of film need to certify the film they sell in the state. Ask your dealer if they are using ceritified film.
Stickers: The sticker/label of compliance to identify legal tinting is required between the film & glass on each tinted window.
Medical Exceptions: Alabama permits medical exemptions for special tint. For more details about the specific terms of the exemption, consult AL state law.
Penalties: Maximum $100 and/or 10 days in prison for first conviction. Second conviction within a year max $200 and/or 30 days in jail. Third and subsequent offense within a year $500 and/or up to 3 months in prison.
Always remember that the laws can change on a daily basis and these rules and regulations may be interpreted differently on a city to city or county to county basis. We recommend double-checking the information contained on this website with your local DMV or local law enforcement agencies for accuracy. This information relating to window tint laws in Alabama was last updated on January 25th, 2020. Tinting laws in Alabama were enacted in 1996. In case any of our info provided is not up to date or correct be sure to contact us so we can fix it. Thanks!
Alabama Automotive Window Tint Law References
Alabama Window tint

Medical Exemption References
To file for a Medical Exemption in Alabama you must contact The Alabama Law Enforcement Agency Driver License Division – Medical Records Unit
They can be contacted by mail at:
P.O. Box 1471 Montgomery, Al 36102
or by Phone: 334-242-4239
For more information you can view their website here
State of Alabama Information
Alabama is a state located in the southeastern region of the United States. It is bordered by Tennessee to the north, Georgia to the east, Florida and the Gulf of Mexico to the south, and Mississippi to the west. Alabama is the 30th-most extensive and the 23rd-most populous of the 50 United States. At 1,300 miles (2,100 km), Alabama has one of the longest navigable inland waterways in the nation.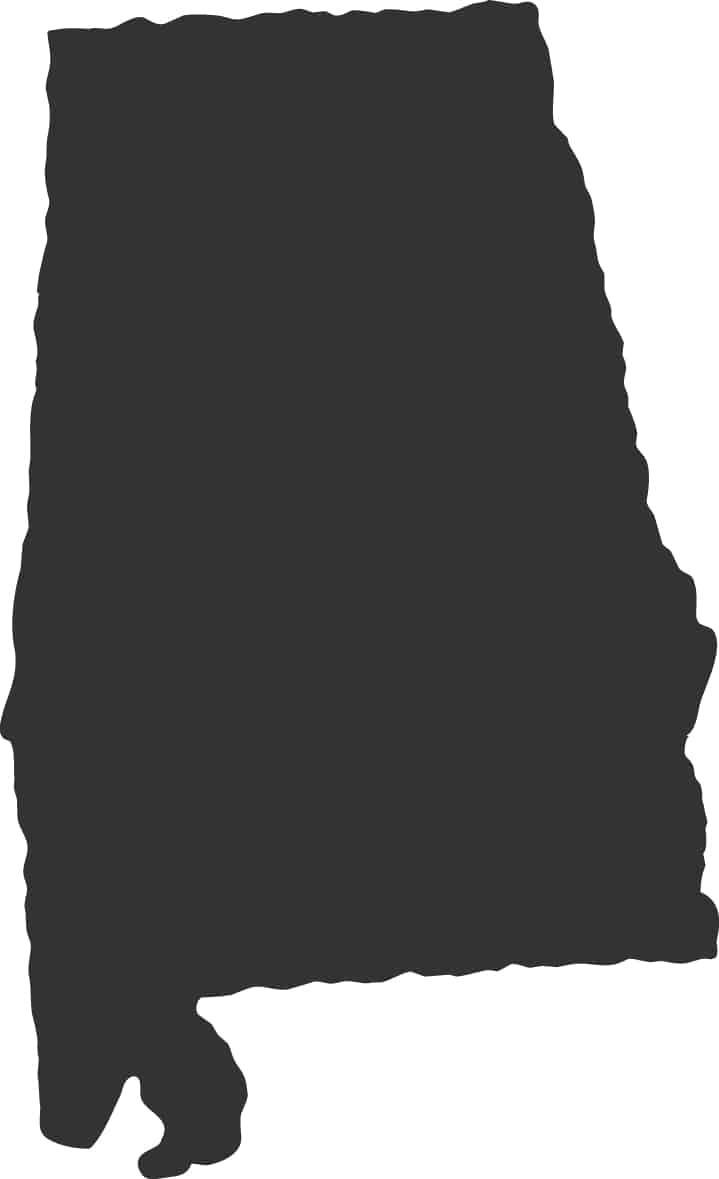 Birmingham, Mobile, Huntsville, Montgomery, Tuscaloosa, Auburn, Gulf Shores, Dothan, Gadsden, Orange Beach, Anniston, Decatur, Muscle Shoals, Florence, Hoover, Fairhope, Cullman, Bessemer, Talladega, Dauphin Island, Nectar, Daphne, Selma, Madison, Prattville, Arab, Opelika, Foley, Dora, Eufaula, Tuskegee, Enterprise, Athens, Alabaster, Scottsboro, Troy, Guntersville, Montevallo, Jasper, Andalusia, Columbiana, Wetumpka, Mentone, Phenix City, Vestavia Hills, Mountain Brook, Trussville, Riderville, Oxford
Autauga, Baldwin, Barbour, Bibb, Blount, Bullock, Butler, Calhoun, Chambers, Cherokee, Chilton, Chocktaw, Clarke, Clay, Cleburne, Coffee, Colbert, Conecuh, Coosa, Covington, Crenshaw, Cullman, Dale, Dallas, DeKalb, Elmore, Escambia, Etowah, Fayette, Franklin, Geneva, Greene, Hale, Henry, Houston, Jackson, Jefferson, Lamar, Lauderdale, Lawrence, Lee, Limestone, Lowndes, Macon, Madison, Marengo, Marion, Marshall, Mobile, Monroe, Montgomery, Morgan, Perry, Pickens, Pike, Randolph, Russell, Shelby, St. Clair, Sumter, Talladega, Tallapoosa, Tuscaloosa, Walker, Washington, Wilcox, Winston
Window Tint Laws By State
Checkout our most recent posts!