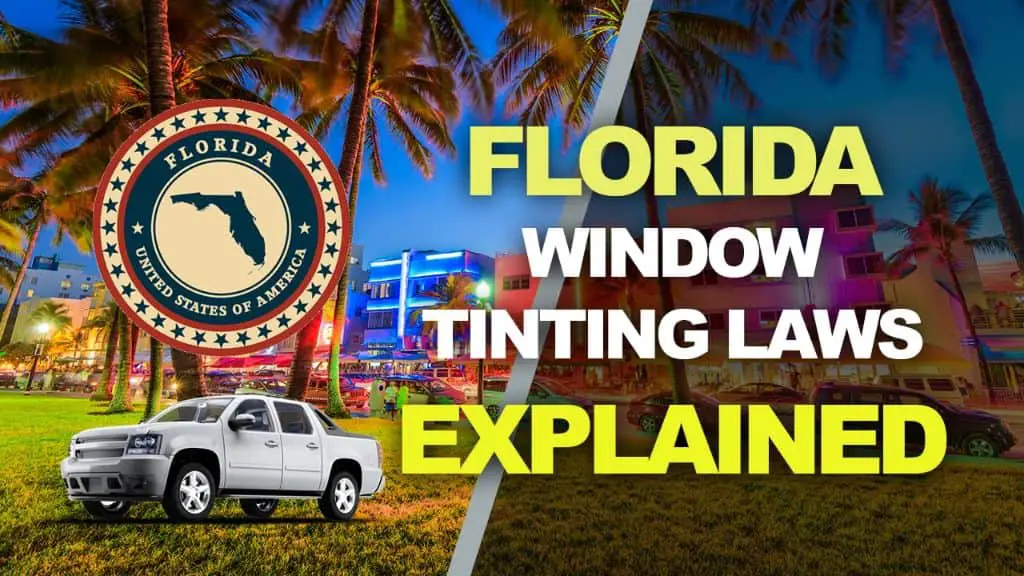 FLORIDA TINT LAW 2023 (FL)
Florida Tint Law – Legal Tint Limit For Passenger Vehicles
Here are the key details on Florida's window tint laws for passenger vehicles in 2023:
Front Windshield: Non-reflective tint is allowed above the manufacturer's AS-1 line. The front windshield must allow over 70% light transmission. Only the top 4 inches may be tinted.
Front seat side windows: up to 28% tint darkness allowed. Front side windows must allow over 28% light transmission, restricting tint to 28% or lighter.
Back seat side windows: up to 28% tint darkness allowed. Back-side windows must allow over 28% light transmission, restricting tint to 28% or lighter.
Rear window: up to 28% tint darkness allowed 
Medical exemptions permit darker tints on front side windows with a doctor's note.
Mirrored or reflective tint is prohibited on all windows. Non-reflective, dye-based films are allowed.
Violating the restrictions results in a standard non-moving traffic citation with fines of around $30-$80.
Florida's tint law is statewide with no additional local regulations.
In summary, Florida limits front-side windows and rear-side window tint to 28% VLT and front windshield tint to just the top 4 inches for passenger vehicles in 2023.
Florida Tinting Law Video:
On this page, we have done our best to collect all of the legal information necessary about the 2023 Florida tint law, including how dark the tint is allowed to be and how reflective the tint is allowed to be in Florida. Aside from the basics, like tint percentages, there are also additional car window tinting rules and regulations in Florida that we have made available.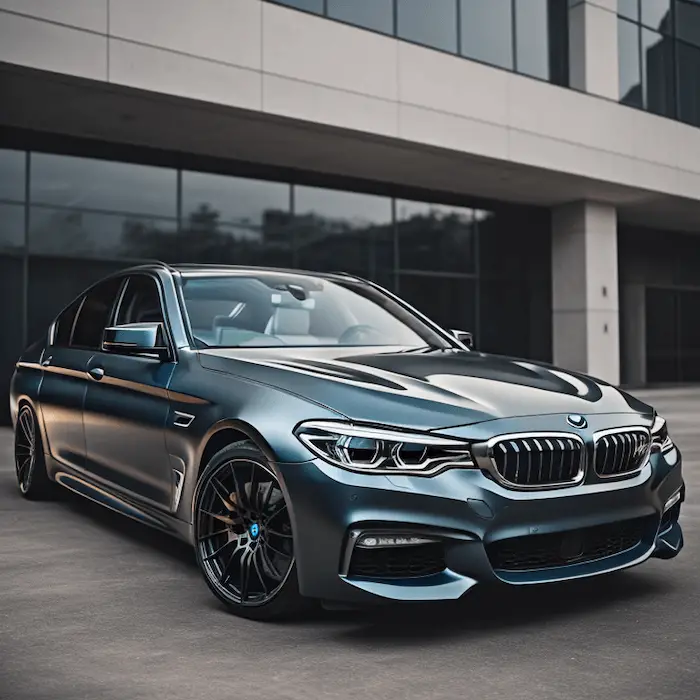 Florida window tint law was first put into place in 1991 with Florida being the 12th of the 50 states to enact these tinting laws.
What does VLT Mean according to Florida State Law?
The percentage of light that a window tint film allows to pass through your car windows is called the VLT (Visible Light Transmission), and each state has different legal allowable limits. The amount of light allowed to pass through your film and glass in Florida is very specific to the state and is different for Passenger Vehicles and Multi-Purpose Vehicles.
A HIGHER VLT means that more light is allowed to pass through the window tint film.
Example: a 75% tint will allow 75% of the light to pass through whereas a 5% tint will only allow 5% of the light to pass through, making the 5% tint a much darker film.
HOW MUCH DOES CAR WINDOW TINTING COST? The cost of tinting your car windows can be very affordable. If you want to learn 

how much it costs to tint your car, click here

.
Florida Tint Law – Legal Tint Limit For Multi-Purpose Vehicles
Front Windshield: Non-reflective tint is allowed on the top 4 inches of the windshield.
Front seat side windows: up to 88% tint darkness allowed with aftermarket film – up to 70% tint darkness allowed if combined with factory-tinted windows.
Back seat side windows: Any tint darkness can be used
Rear window: Any tint darkness can be used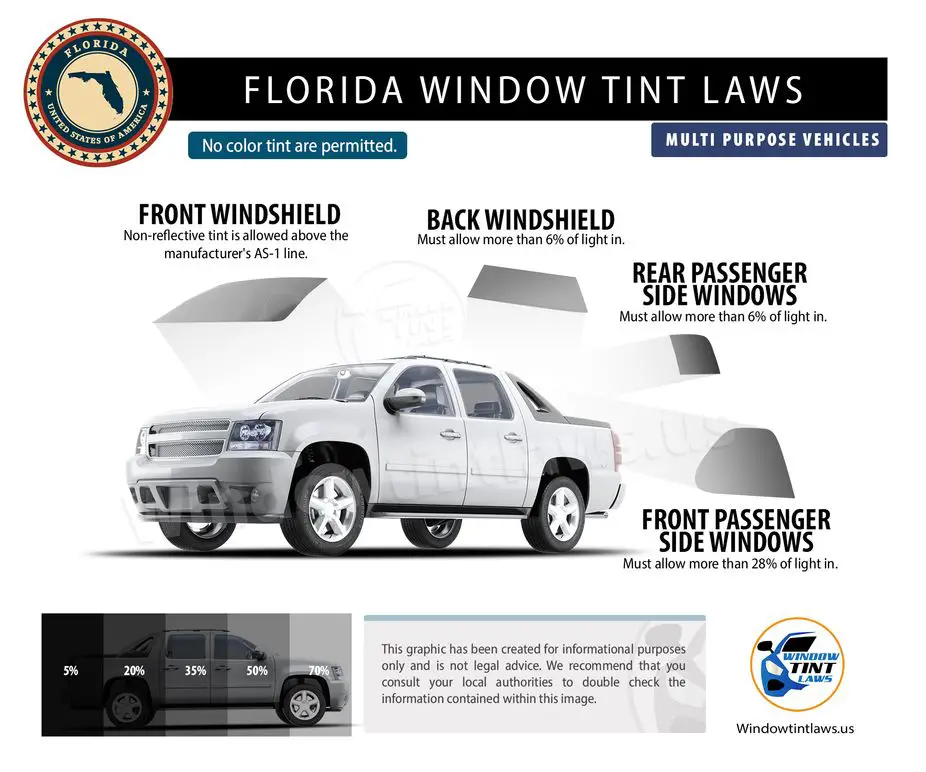 Is 5% tint legal in Florida?
The only time that you are allowed to use a 5% tint legally in Florida is if you are Medically Exempt, you are a law enforcement agent used in undercover or canine operations or if you are driving a vehicle owned or leased by a private investigator or agency licensed under Florida Chapter 493
Best Florida Window Tint Shops By City
We've curated a list of the best window tinting shops in various Florida cities based on quality of service, pricing, and customer reviews:
Best Fort Lauderdale Window Tint Shops
Best West Palm Beach Window Tint Shops
Best Orlando Window Tint Shops
Best Jacksonville Window Tint Shops
Best Tallahassee Window Tint Shops
Best Gainesville Window Tint Shops
Other Florida Window Tint Law Rules And Regulations:
Florida has a few other important things that you will need to consider regarding window tinting and we recommend that you check them out before deciding whether or not you tint your windows:
Do I have to have side mirrors in Florida? Dual side mirrors are required on your car in Florida if the rear window is tinted.
Is colored tint illegal in Florida? It is illegal to use any tint color on your windows in Florida.
What are the Window Tint Certification Rules in Florida? Film manufacturers don't need to certify the film they sell in this state.
Do I need a certified sticker from the company installing my window tint in Florida? The sticker to identify legal tinting is required on the inside of the driver's side door jamb.
Are there Medical Exemptions in Florida for Window Tint? Florida allows medical exemptions for special tint. For more details about the specific terms of the exemption, consult your state law.
Always remember that Florida tint laws can change on a daily basis and these rules and regulations may be interpreted differently on a city-to-city or county-to-county basis. We recommend double-checking the information contained on this website with your local DMV or local law enforcement agencies for accuracy. This information relating to window tint laws in Florida was last updated on August 11th, 2023. Tinting laws in Florida were enacted in 1991. In case any of our info provided is not up to date or correct be sure to contact us so we can fix it. Thanks!
Florida Automotive Window Tint Law References
Florida Statutes – Title XXIII Chapter 316 Section 2951-2956
---
According to Section 316.29545, Florida State Law allows window tint medical exemptions to be given to vehicle owners for specific medical reasons including, but not limited to, the following:
Lupus
Dermatomyositis (Autoimmune Disease)
Albinism
Total or Facial Vitiligo
Xeroderma Pigmentosum
You are required to completely and accurately fill out Form HSMV 83390 (Application for Sun-screening Medical Exemption) and include the Physician's Statement of Certification and mail it to the following address:
STATE OF FLORIDA
DIVISION OF MOTORIST SERVICES
2900 Apalachee Parkway, MS# 72
Neil Kirkman Building – Tallahassee, FL 32399-0620
The Physician filling out your Statement of Certification is required to have one of the following credentials in order for their signature and recommendation to be valid:
Physician licensed to practice under Chapters 458, 459, or 460, Florida Statutes
Dermatologist licensed to practice under Chapter 458, Florida Statutes
A physician who practices medicine in a military medical facility, state hospital, or federal prison. The Physician must include the name and address of the facility
An advanced registered nurse practitioner licensed under Chapter 464, under the protocol of a licensed physician
Physician assistant licensed under chapter 458 or 459, Florida Statutes
This medical exemption is only given to persons who require limited exposure to light and are permitted to have sun screening material on the windshield, side windows, and windows behind the driver which is in violation of the requirements of sections 316.2951-316.2957
You must provide one of the following proofs of identification along with your application:
A current Florida driver's license
A Florida identification card
How Much Does a Window Tint Medical Exemption Certificate Cost In Florida?
A window tint medical exemption certification has a fee of $6.25 for EACH applicable vehicle. A Florida Window tint medical exemption certificate has no expiration date and is non-transferable. The certificate becomes immediately VOID and invalid upon the sale or transfer of the vehicle identified on the certificate.
For more information regarding window tint medical exemptions in Florida, you can check out this resource:
---
---
State of Florida Information
Florida is a state in the southeastern region of the United States, bordered to the west by the Gulf of Mexico, to the north by Alabama and Georgia, to the east by the Atlantic Ocean, and to the south by the Straits of Florida. Florida is the 22nd most extensive, the 4th most populous, and the 8th most densely populated of the 50 United States. The state capital is Tallahassee, the largest city is Jacksonville, and the largest metropolitan area is the Miami metropolitan area.
What is the Capital of Florida
The capital of Florida is Tallahassee
What is the population of Florida
The population of Florida is 21,477,737 according to Wikipedia as of 2019.
What is the area of Florida
The area of Florida is 65,757 square miles and ranks as the 22nd largest state in the United States!
Check out Florida's Wikipedia page to learn all kinds of cool facts about the state!
If you want to learn more about the laws in Florida check out their official Website Here
What are the main cities located in Florida?

Miami, Orlando, Tampa, Fort Lauderdale, Jacksonville, Key West, Sarasota, Naples, Fort Myers, Tallahassee, St. Petersburg, Miami Beach, St. Augustine, Destin, West Palm Beach, Boca Raton, Pensacola, Daytona Beach, Clearwater, Kissimmee, Gainesville, Bradenton, Hollywood, Palm Beach, Cape Coral, Marco Island, Ocala, The Villages, Port St. Lucie, Sanibel, Delray Beach, Panama City Beach, Panama City, Vero Beach, Lakeland, Cocoa Beach, Melbourne, Pompano Beach, Winter Park, Sunrise, Venice, Punta Gorda, Fort Myers Beach, Jupiter, Coral Gables, Everglades, Stuart, Pembroke Pines, Clearwater Beach, Islamorada
What are the main counties located in Florida?

Alachua, Baker, Bay, Bradford, Brevard, Broward, Calhoun, Charlotte, Citrus, Clay, Collier, Columbia, DeSoto, Dixie, Duval, Escambia, Flagler, Franklin, Gadsden, Gilchrist, Glades, Gulf, Hamilton, Hardee, Hendry, Hernando, Highlands, Hillsborough, Holmes, Indian River, Jackson, Jefferson, Lafayette, Lake, Lee, Leon, Levy, Liberty, Madison, Manatee, Marion, Martin, Miami-Dade, Monroe, Nassau, Okaloosa, Okeechobee, Orange, Osceola, Palm Beach, Pasco, Pinellas, Polk, Putnam, Santa Rosa, Sarasota, Seminole, St. Johns, Sumter, Suwannee, Taylor, Union, Volusia, Wakulla, Walton, Washington