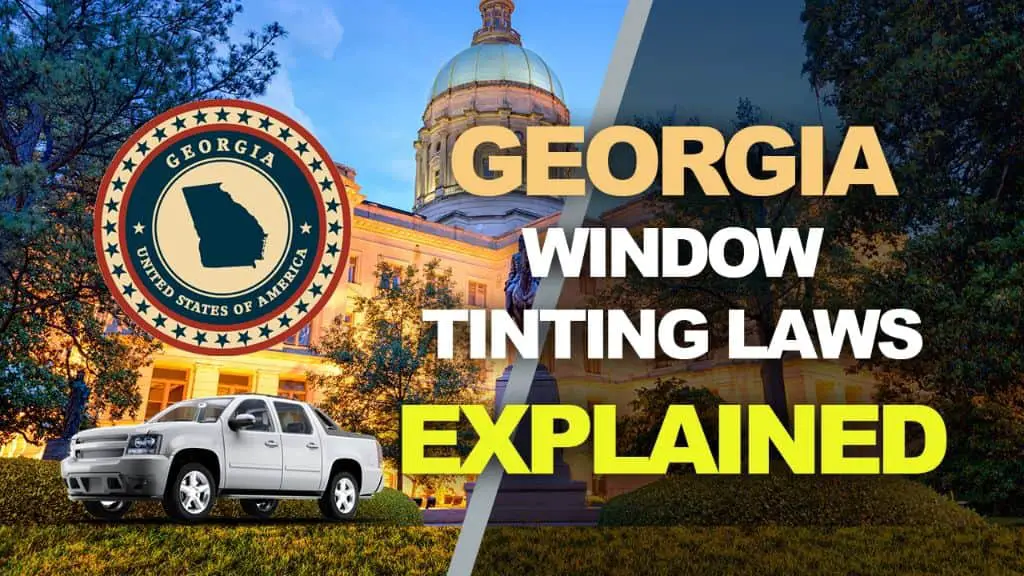 GEORGIA TINT LAW 2023 (GA)
Georgia Tint Law – Legal Tint Limit For Passenger Vehicles
Front Windshield: Non-reflective tint is allowed on the top 6 inches of the windshield.
Front seat side windows: up to 32% tint darkness allowed
Back seat side windows: up to 32% tint darkness allowed
Rear window: up to 32% tint darkness allowed 
Georgia Tinting Law Video:
On this page we have done our best to collect all of the legal information necessary about the 2023 Georgia tint law, including how dark the tint is allowed to be and how reflective the tint is allowed to be in Georgia. Aside from the basics, like tint percentages, there are also additional car window tinting rules and regulations in Georgia that we have made available.
Georgia window tint law was first put into place in 2005 with Georgia being the 44th of the 50 states to enact these tinting laws.
What does VLT Mean according to Georgia State Law
The percentage of light that a window tint film allows to pass through your car windows is called the VLT (Visible Light Transmission), and each state has different legal allowable limits. The amount of light allowed to pass through your film and glass in Georgia is very specific to the state and is different for Passenger Vehicles and Multi-Purpose Vehicles.
A HIGHER VLT means that more light is allowed to pass through the window tint film.
Example: a 75% tint will allow 75% of the light to pass through whereas a 5% tint will only allow 5% of the light to pass through, making the 5% tint a much darker film.
HOW MUCH DOES CAR WINDOW TINTING COST? The cost of tinting your car windows can be very affordable. If you want to learn 

how much it costs to tint your car, click here

.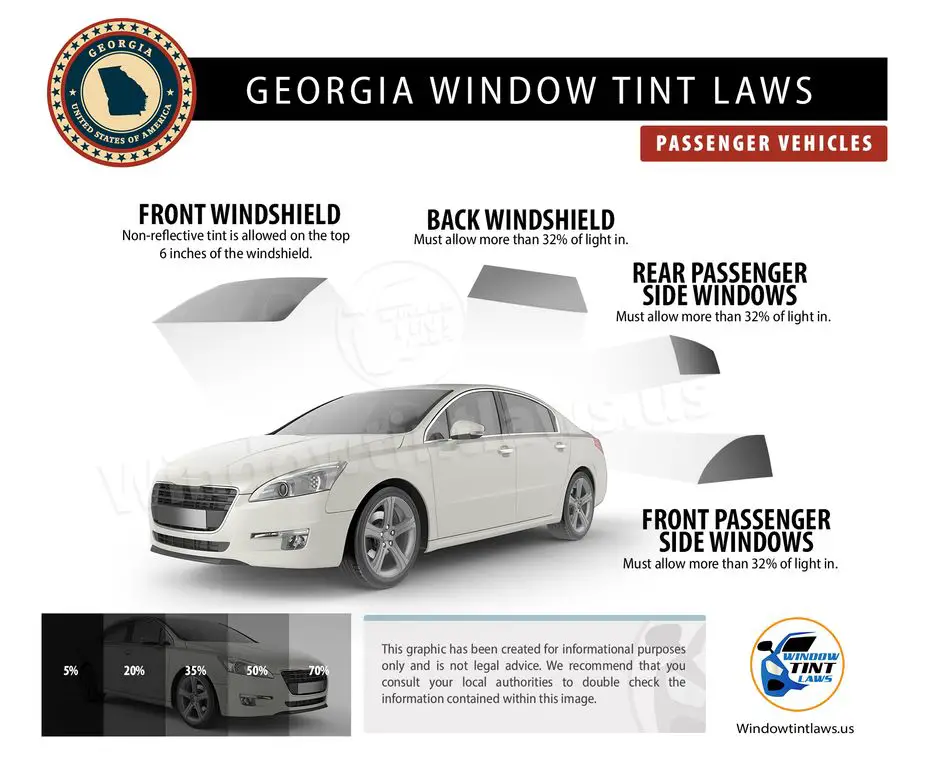 Georgia Tint Law – Legal Tint Limit For Multi-Purpose Vehicles
Front Windshield: Non-reflective tint is allowed on the top 6 inches of the windshield.
Front seat side windows: up to 32% tint darkness allowed
Back seat side windows: Any tint darkness can be used
Rear window: Any tint darkness can be used 
Other Georgia Window Tint law Rules And Regulations:
Georgia has a few other important things that you will need to consider regarding window tinting and we recommend that you check them out before deciding whether or not you tint your windows:
Do I have to have side mirrors in Georgia? Side mirrors are only required in Georgia if your view from the windshield mirror is obstructed.
Is colored tint illegal in Georgia? All tint colors are allowed in Georgia except Red and Amber.
What are the Window Tint Certification Rules in Georgia? Manufacturers of film need to certify the film they sell in the state. Make sure your dealer is using certified film.
Do I need a certified sticker from the company installing my window tint in Georgia? The sticker to identify legal tinting is required on the windshield.
Are there Medical Exemptions in Georgia for Window Tint? Georgia allows medical exemptions for special tint.
Always remember that Georgia tint laws can change on a daily basis and these rules and regulations may be interpreted differently on a city to city or county to county basis. We recommend double-checking the information contained on this website with your local DMV or local law enforcement agencies for accuracy. This information relating to window tint laws in Georgia was last updated on January 5th, 2023. Tinting laws in Georgia were enacted in 2005. In case any of our info provided is not up to date or correct be sure to contact us so we can fix it. Thanks!
Georgia Automotive Window Tint Law References
Georgia Code Tinting of Windows or Windshield – Section 40-8-73.1
Better Understanding Window Tint Laws for Georgia
---
Official Code of Georgia Annotated (OCGA) Section 40-8-73.1 prohibits the use of tinted windows with certain exceptions. One exception allows persons with a
restrictive medical condition to operate or ride in a vehicle with tinted windows.
When approved by the Department of Public Safety, the approval copy of this completed document serves as authorization for an exemption to the window tint law
based on a restrictive medical condition. Each application must have an attestation from a person licensed to practice medicine under Chapter 34 of Title 43 or a
person certified as an optometrist under Chapter 30 of Title 43.
A $10 fee per application/household is required. All funds must be paid by either money order, certified check, or cashier's check. No personal checks will be
accepted. Return this form along with the required fee to the Department of Public Safety, Attention: Accounts Receivable, P.O. Box 1456, Atlanta,
GA 30371-2303. For any questions concerning this permit, please call (404)624-7523.
APPLICANT INFORMA
(1) Any person requesting an exemption from O.C.G.A. Section 40-8-73.1 who is required for medical reasons to be shielded from the
direct rays of the sun shall submit to the Department of Public Safety Permit Section an application for Limited Exemption Notice
upon such form as shall be prescribed and provided by the Department.
(2) All applications must be supported by written attestation that the applicant, for medical reasons, requires shielding from the direct
rays of the sun. The attestation shall include the specific medical diagnosis requiring such shielding and shall be entered upon such
form as shall be provided by the Department. Such attestation shall be signed by a person licensed to practice medicine under
O.C.G.A. Chapter 34 of Title 43 or by a person licensed to practice optometry under O.C.G.A. Chapter 30 of Title 43.
(3) If the applicant is not the owner of the vehicle for which the limited exemption is sought, the application shall be signed by both
the vehicle owner and the habitual occupant requiring shielding from the direct rays of the sun. Each application shall be accompanied
by a ten dollar ($10.00) non-refundable application fee payable in such manner as noted on the application form.
(4)Upon receipt by the Department of Public Safety Permit Section of the application and doctor's attestation, the Commissioner or
his designee may, in his discretion, authorize and issue a limited exemption notice for said applicant. Such limited exemption shall
apply to such motor vehicle owned by such person or in which such person is a habitual passenger. The limited exemption from
provisions of O.C.G.A. 40-8-73.1 shall not allow the reduction of light transmission through the windshield and shall not allow the
reduction of light transmission through the windows to the right and left of the driver to less than 23 percent, plus or minus 3 percent.
(5) Such limited exemption shall be carried in the vehicle at all times and shall be displayed by the vehicle operator upon request of
any police officer as defined in O.C.G.A. Section 40-1-1(46).
(6) No exemption shall be granted for any condition for which protection from the direct rays of the sun can be adequately provided
by use of protective eyewear devices.
Georgia permits medical waivers for window tint. State licensed physician or optometrist must attest that you require special shielding from the sun due to a medical condition. A $10 application fee is charged.
With medical exemptions, a minimum of 23% VLT is required (with 3% variance).
Medical exemptions will not be granted if adequate protection can be provided by protective eyewear devices.
For more information regarding window tint medical exemptions in _____ you can check out this resource:
---
---
State of Georgia Information
Georgia is a state located in the southeastern United States. It was established in 1732, the last of the original Thirteen Colonies, and named after King George II of Great Britain. Georgia is the 24th most extensive and the 8th most populous of the 50 United States. From 2007 to 2008, 14 of Georgia's counties ranked among the nation's 100 fastest-growing, second only to Texas. Georgia is known as the Peach State and the Empire State of the South. Atlanta is the state's capital and its most populous city.
What is the Capital of Georgia
The capital of Georgia is Atlanta
What is the population of Georgia
The population of Georgia is 10,617,423 according to Wikipedia as of 2018.
What is the area of Georgia
The area of Georgia is 59,425 square miles and ranks as the 24th largest state in the United States!
Check out Georgia's Wikipedia page to learn all kinds of cool facts about the state!
If you want to learn more about the laws in Georgia check out their official Website Here
What are the main cities located in Georgia?

Atlanta, Augusta, Columbus, Savannah, Athens, Sandy Springs, Roswell, Macon, Johns Creek, Albany, Warner Robins, Alpharetta, Marietta, Valdosta, Smyrna, Dunwoody, Rome, East Point, Milton, Gainesville, Hinesville, Peachtree City, Newnan, Dalton, Douglasville, Kennesaw, LaGrange, Statesboro, Lawrenceville, Duluth, Stockbridge, Woodstock, Carrollton, Canton, Griffin, McDonough, Acworth, Pooler, Union City, Decatur, Cartersville, Sugar Hill, Milledgeville, Snellville, Forest Park, Thomasville, St. Marys, Tifton, Americus, Kingsland, uwanee, Dublin, Calhoun, Chamblee, Brunswick, Norcross, Riverdale, Conyers, Perry
What are the main counties located in Georgia?

Fulton, Gwinnett, Cobb, DeKalb, Clayton, Chatham, Cherokee, Richmond, Muscogee, Bibb, Hall, Henry, Houston, Whitfield, Clarke, Forsyth, Dougherty, Douglas, Lowndes, Fayette, Floyd, Columbia, Coweta, Carroll, Paulding, Bartow, Rockdale, Glynn, Newton, Liberty, Walker, Walton, Troup, Spalding, Bulloch, Catoosa, Barrow, Laurens, Baldwin, Gordon, Camden, Thomas, Colquitt, Jackson, Tift, Effingham, Coffee, Murray, Habersham, Ware, Sumter, Oconee, Decatur, Upson, Wayne, Toombs, Madison, Haralson, Chattooga, Stephens, Lee, Mitchell, Harris, Peach, Grady, Jones, Gilmer, Bryan, Hart, Pickens, Meriwether, Tattnall, Burke, Crisp, Worth, Emanuel, Monroe, McDuffie, Washington, Lumpkin, Elbert, Franklin, White, Fannin, Butts, Dodge, Putnam, Ben Hill, Appling, Union, Jefferson, Brooks, Berrien, Dawson, Lamar, Cook, Pierce, Morgan, Screven, Dade, Rabun, Chattahoochee, Brantley, Banks, Greene, Macon, Pike, Jeff Davis, Oglethorpe, Crawford, Early, Telfair, Bleckley, Dooly, Jasper, Heard, Terrell, McIntosh, Wilkes, Twiggs, Evans, Long, Charlton, Wilkinson, Bacon, Hancock, Irwin, Pulaski, Candler, Turner, Seminole, Towns, Taylor, Wilcox, Jenkins, Johnson, Lincoln, Montgomery, Randolph, Atkinson, Lanier, Marion, Clinch, Treutlen, Talbot, Miller, Warren, Calhoun, Wheeler, Stewart, Baker, Schley, Echols, Clay, Quitman, Glascock, Webster, Taliaferro