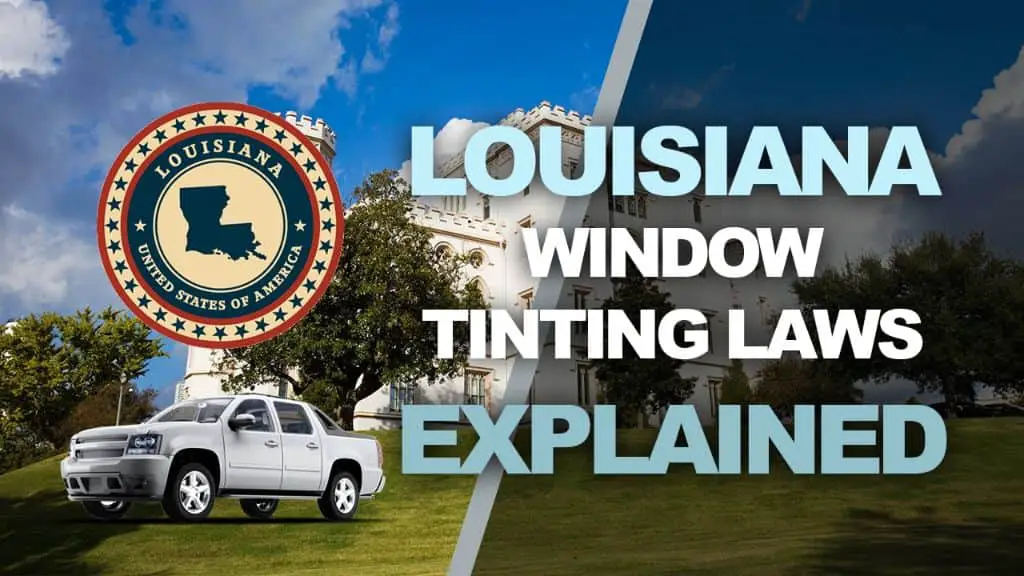 LOUISIANA TINT LAW 2023 (LA)
Louisiana Tint Law – Legal Tint Limit For Passenger Vehicles
Front Windshield: Non-reflective tint is allowed above the manufacturer's AS-1 line or top 5 inches.
Front seat side windows: up to 40% tint darkness allowed
Back seat side windows: up to 12% tint darkness allowed
Rear window: up to 12% tint darkness allowed 
HOW MUCH DOES CAR WINDOW TINTING COST? The cost of tinting your car windows can be very affordable. If you want to learn 

how much it costs to tint your car, click here

.
On this page, we have done our best to collect all of the legal information necessary about the 2023 Louisiana tint law, including how dark the tint is allowed to be and how reflective the tint is allowed to be in Louisiana. Aside from the basics, like tint percentages, there are also additional car window tinting rules and regulations in Louisiana that we have made available.
Louisiana window tint law was first put into place in 1993 with Louisiana being the 20th of the 50 states to enact these tinting laws.
What does VLT Mean according to Louisiana State Law?
The percentage of light that a window tint film allows to pass through your car windows is called the VLT (Visible Light Transmission), and each state has different legal allowable limits. The amount of light allowed to pass through your film and glass in Louisiana is very specific to the state and is different for Passenger Vehicles and Multi-Purpose Vehicles.
A HIGHER VLT means that more light is allowed to pass through the window tint film.
Example: a 75% tint will allow 75% of the light to pass through whereas a 5% tint will only allow 5% of the light to pass through, making the 5% tint a much darker film.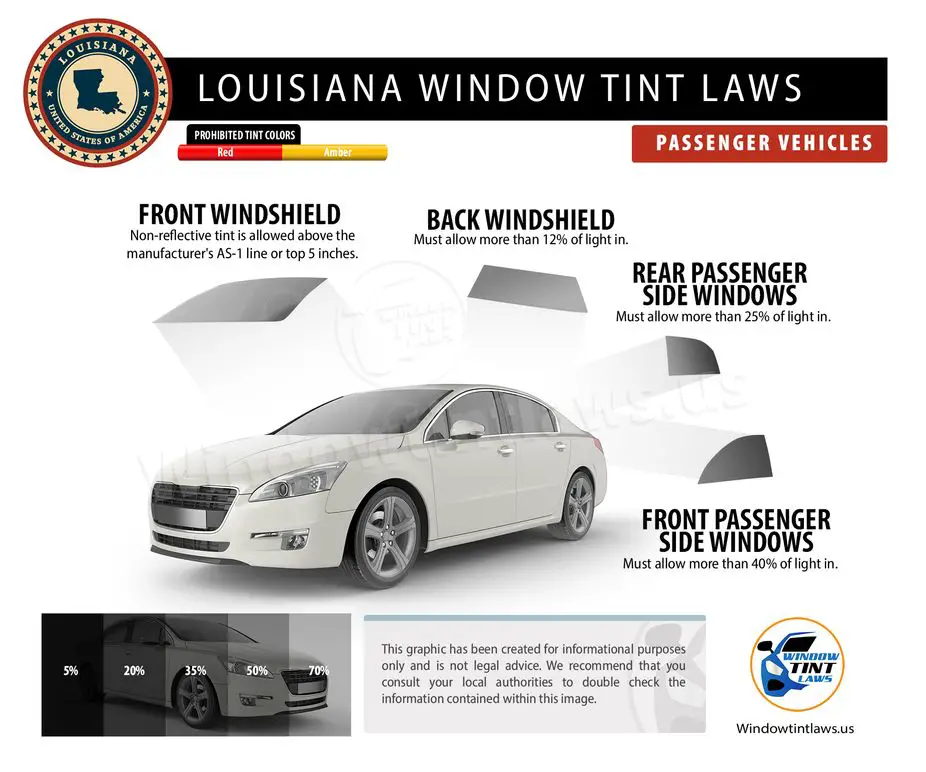 Louisiana Tint Law – Legal Tint Limit For Multi-Purpose Vehicles
Front Windshield: Non-reflective tint is allowed above the manufacturer's AS-1 line or top 5 inches.
Front seat side windows: up to 40% tint darkness allowed
Back seat side windows: Any tint darkness can be used
Rear window: Any tint darkness can be used
Other Louisiana Window Tint Law Rules And Regulations:
Louisiana has a few other important things that you will need to consider regarding window tinting and we recommend that you check them out before deciding whether or not you tint your windows:
Do I have to have side mirrors in Louisiana? The driver-side rear-view mirror is required along with either a windshield mirror or a right-side mirror. If the Windshield mirror is obstructed then a right-side mirror is required.
Is colored tint illegal in Louisiana? All tint colors are allowed in Louisiana except Red and Amber.
What are the Window Tint Certification Rules in Louisiana? Manufacturers of film must certify the film they sell in the state. Ask your dealer if they are using certified film.
Do I need a certified sticker from the company installing my window tint in Louisiana? The sticker to identify legal tinting is required between the film and glass on the driver's side window.
Are there Medical Exemptions in Louisiana for Window Tint? Louisiana law does allow medical exemptions for tinted windows. Office of the State Police may grant a certificate of exemption in case of certain medical conditions.
Always remember that Louisiana tint laws can change on a daily basis and these rules and regulations may be interpreted differently on a city-to-city or county-to-county basis. We recommend double-checking the information contained on this website with your local DMV or local law enforcement agencies for accuracy. This information relating to window tint laws in Louisiana was last updated on August 24th, 2023. Tinting laws in Louisiana were enacted in 1993. In case any of our info provided is not up to date or correct be sure to contact us so we can fix it. Thanks!
Louisiana Automotive Window Tint Law References
Louisiana State Legislature – §361.1. Tinted Windows Bill
---
Louisiana permits operating a vehicle with darker tint for the registered vehicle owner, spouse, or family member of a person who received a medical exemption. Medical conditions you can get exemptions for include World Health Organization International Classification of Disease ICD- 9-CM conditions albinoism, lupus, porphyria, or other conditions such as photophobia.
Department of Public Safety and Corrections issues a special decal that must be prominently displayed on vehicles at all times indicating tinted windows for medical reasons. A medical exemption affidavit must also always be carried in the vehicle.
If you received an exemption and installed a darker tint on your vehicle, you are obligated to remove it in case of sale or transfer of the vehicle.
Any exemptions granted in Louisiana are subject to review every three years. Persons convicted of violent crimes or drug offenses are not eligible for medical exemptions.
For more information regarding window tint medical exemptions in _____ you can check out this resource:
---
---
State of Louisiana Information
Louisiana is a state located in the southern region of the United States of America. Louisiana is the 31st most extensive and the 25th most populous of the 50 United States. Its capital is Baton Rouge and its largest city is New Orleans. Louisiana is the only state in the U.S. with political subdivisions termed parishes, which are local governments equivalent to counties. The largest parish by population is East Baton Rouge Parish, and the largest by land area is Cameron Parish.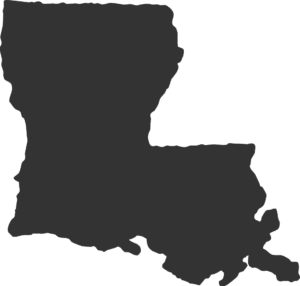 What is the Capital of Louisiana
The capital of Louisiana is Baton Rouge
What is the population of Louisiana
The population of Louisiana is 4,659,978 according to Wikipedia as of 2018.
What is the area of Louisiana?
The area of Louisiana is 52,069 square miles and ranks as the 31st largest state in the United States!
Check out Louisiana's Wikipedia page to learn all kinds of cool facts about the state!
If you want to learn more about the laws in Louisiana check out their official Website Here
What are the main cities located in Louisiana?

New Orleans, Baton Rouge, Shreveport, Lake Charles, West Monroe, Monroe, Houma, Alexandria, Lafayette, Slidell, Bossier City, Natchitoches, Kenner, New Iberia, Covington, Thibodaux, Ruston, Mandeville, Coushatta, Breaux Bridge, Grand Isle, Opelousas, Clarks, Hammond, Sulphur, Morgan City, Gretna, Denham Springs, Eunice, St. Francisville, Bogalusa, Gonzales, Little Woods, Bayou Pigeon, Leesville, Kinder, Tallulah, St. Bernard Parish, Abbeville, Ikes, Pineville, Ponchatoula, Zachary, Minden, De Ridder, Venice, Holly Beach, Eros, Broussard, Abita Springs
What are the main counties located in Louisiana?

(Parishes) Acadia, Allen, Ascension, Assumption, Avoyelles, Beauregard, Bienville, Bossier, Caddo, Calcasieu, Caldwell, Cameron, Catahoula, Claiborne, Concordia, De Soto, East Baton Rouge, East Carroll, East Feliciana, Evangeline, Franklin, Grant, Iberia, Iberville, Jackson, Jefferson, Jefferson Davis, Lafayette, Lafourche, La Salle, Lincoln, Livingston, Madison, Morehouse, Natchitoches, Orleans, Quachita, Plaquemines, Pointe Coupee, Rapides, Red River, Richland, Sabine, Saint Bernard, Saint Charles, Saint Helena, Saint James, Saint John the Baptist, Saint Landry, Saint Martin, Saint Mary, Saint Tammany, Tangipahoa, Tensas, Terrebonne, Union, Vermilion, Vernon, Washington, Webster, West Baton Rouge, West Carroll, West Feliciana, Winn