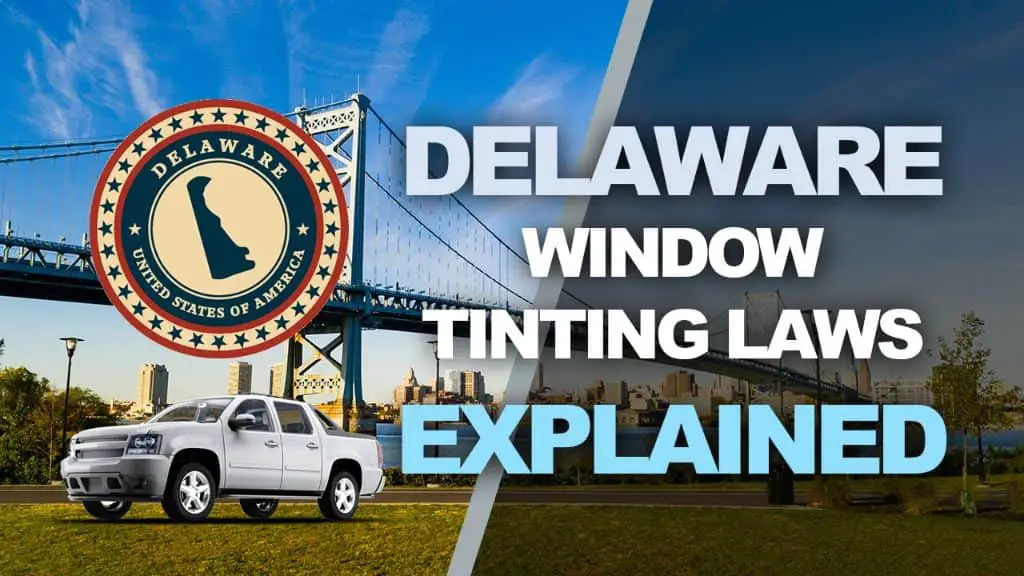 DELAWARE TINT LAW 2023 (DE)
Delaware Tint Law – Legal Tint Limit For Passenger Vehicles
Front Windshield: Non-reflective tint is allowed above the manufacturer's AS-1 line or 5″ if there is no AS-1 line indicated
Front seat side windows: up to 70% tint darkness allowed
Back seat side windows: Any tint darkness can be used
Rear window: Any tint darkness can be used
Delaware Tinting Law Video:
On this page we have done our best to collect all of the legal information necessary about the 2023 Delaware tint law, including how dark the tint is allowed to be and how reflective the tint is allowed to be in Delaware. Aside from the basics, like tint percentages, there are also additional car window tinting rules and regulations in Delaware that we have made available.
Delaware window tint law was first put into place in 1992 with Delaware being the 16th of the 50 states to enact these tinting laws.
NOTE TO OUT OF STATE DRIVERS:
"The law applies to all motor vehicles which are operated on the roads and highways in this State, regardless of where such vehicles are registered"

https://regulations.delaware.gov/AdminCode/title2/2000/2200/Vehicle/2277.shtml
What does VLT Mean according to Delaware State Law
The percentage of light that a window tint film allows to pass through your car windows is called the VLT (Visible Light Transmission), and each state has different legal allowable limits. The amount of light allowed to pass through your film and glass in Delaware is very specific to the state and is different for Passenger Vehicles and Multi-Purpose Vehicles.
A HIGHER VLT means that more light is allowed to pass through the window tint film.
Example: a 75% tint will allow 75% of the light to pass through whereas a 5% tint will only allow 5% of the light to pass through, making the 5% tint a much darker film.
HOW MUCH DOES CAR WINDOW TINTING COST? The cost of tinting your car windows can be very affordable. If you want to learn 

how much it costs to tint your car, click here

.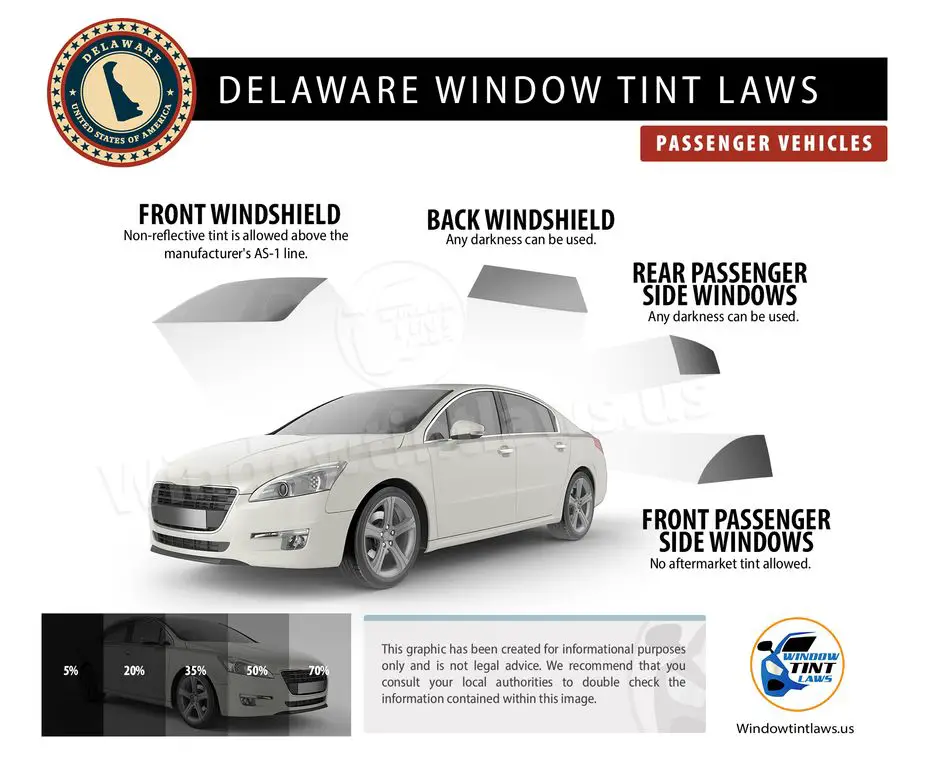 Delaware Tint Law – Legal Tint Limit For Multi-Purpose Vehicles
Front Windshield: Non-reflective tint is allowed above the manufacturer's AS-1 line or 5″ if there is no AS-1 line indicated
Front seat side windows: up to 70% tint darkness allowed
Back seat side windows: Any tint darkness can be used
Rear window: Any tint darkness can be used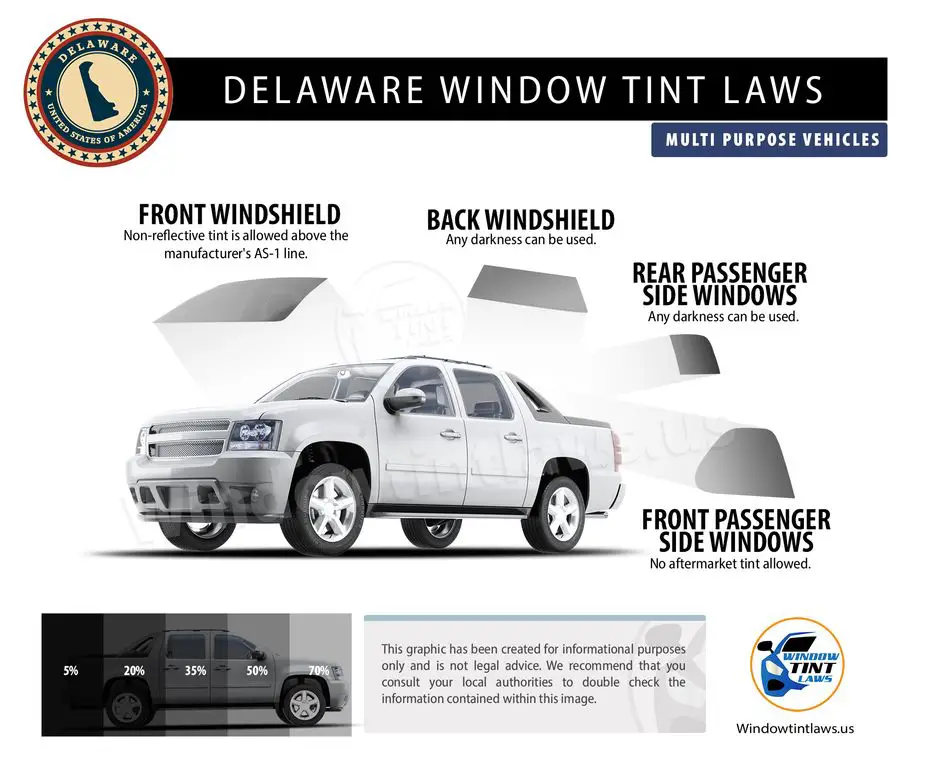 Other Delaware Window Tint law Rules And Regulations:
Delaware has a few other important things that you will need to consider regarding window tinting and we recommend that you check them out before deciding whether or not you tint your windows:
Do I have to have side mirrors in Delaware? Dual side mirrors are required on your car in Delaware if the rear window is tinted.
Is colored tint illegal in Delaware? All tint colors are allowed in Delaware.
What are the Window Tint Certification Rules in Delaware? Film manufacturers don't need to certify the film they sell in Delaware.
Do I need a certified sticker from the company installing my window tint in Delaware? The sticker to identify legal tinting is required between the film & glass on the driver's side window.
Are there Medical Exemptions in Delaware for Window Tint? Delaware permits medical exemptions for special tint. For more details about the specific terms of the exemption please consult your state law.
Always remember that Delaware tint laws can change on a daily basis and these rules and regulations may be interpreted differently on a city to city or county to county basis. We recommend double-checking the information contained on this website with your local DMV or local law enforcement agencies for accuracy. This information relating to window tint laws in Delaware was last updated on January 5th, 2023. Tinting laws in Delaware were enacted in 1992. In case any of our info provided is not up to date or correct be sure to contact us so we can fix it. Thanks!
Delaware Automotive Window Tint Law References
Delaware Motor Vehicles Operation and Equipment – Title 21, Section 4313 and 4313A
Approved Tinting for Side Windows – Delaware.gov
---
Delaware State Law allows window tint medical exemptions to be given to vehicle owners. To file for a medical exemption in Delaware you must fill out the MV495 form (Application for Medical Waiver of Tinted Window Law). Unfortunately, their governmental website states that this form is no longer available online and must be acquired by going into your nearest DMV facility.
For more information regarding window tint medical exemptions in Delaware you can check out this resource:
---
---
State of Delaware Information
Delaware is a U.S. state located on the Atlantic Coast in the Mid-Atlantic region of the United States. It is bordered to the south and west by Maryland, to the northeast by New Jersey, and to the north by Pennsylvania. The state takes its name from Thomas West, 3rd Baron De La Warr, an English nobleman and Virginia's first colonial governor, after whom what is now called Cape Henlopen was originally named. Delaware is located in the northeastern portion of the Delmarva Peninsula and is the second smallest, the sixth least populous, but the sixth most densely populated of the fifty United States.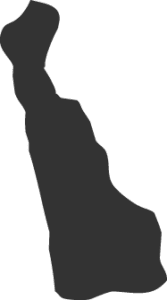 What is the Capital of Delaware
The capital of Delaware is Dover
What is the population of Delaware
The population of Delaware is 967,171 according to Wikipedia as of 2018.
What is the area of Delaware
The area of Delaware is 1,982 square miles and ranks as the 49th largest state in the United States!
Check out Delaware's Wikipedia page to learn all kinds of cool facts about the state!
If you want to learn more about the laws in Delaware check out their official Website Here
What are the main cities located in Delaware?

Wilmington, Dover, Newark, Rehoboth Beach, Lewes, New Castle, Bethany Beach, Middletown, Seaford, Georgetown, Smyrna, Dewey Beach, Milford, Millsboro, Fenwick Island, Schoolview, Milton, Delaware City, Ocean View, Bridgeville, Laurel, Selbyville, Camden, Harrington, Magnolia, Dagsboro, Delmar, Arden, Frankford, Elsmere, Slaughter Beach, Christiana, Townsend, Greenwood, Frederica, Felton, Mermaid Run, Gumboro, Winterthur, Newport, Wembly, Bowers, Hartly, Broadkill Beach, Odessa, Arbor Pointe Apartments, Clayton, Blades, Wyoming, Rock Manor