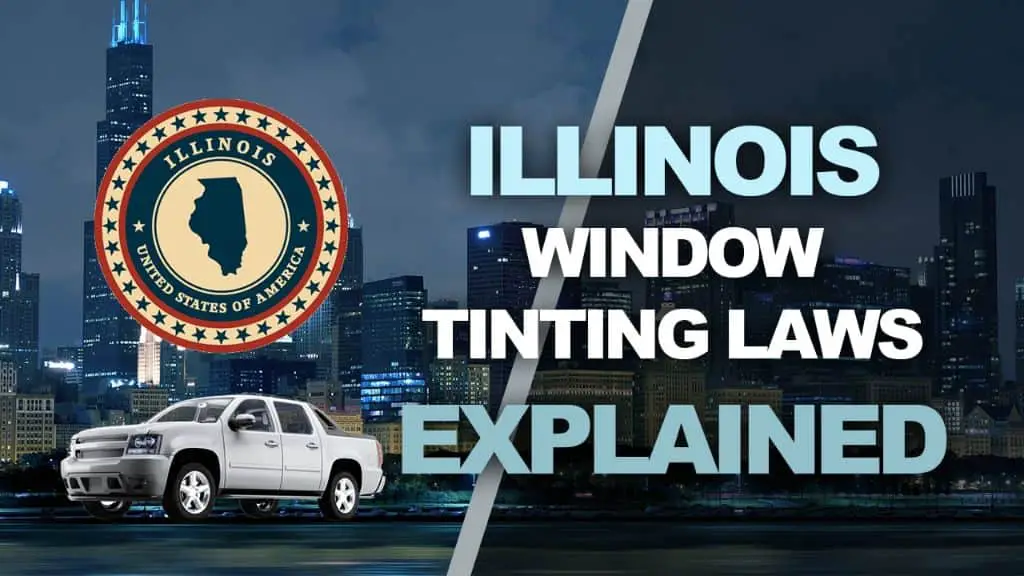 ILLINOIS TINT LAW 2023 (IL)
Illinois Tint Law – Legal Tint Limit For Passenger Vehicles
Here are the key details on Illinois' window tint laws for passenger vehicles in 2023:
Front Windshield: Non-reflective tint is allowed on the top 6 inches of the windshield.
Front seat side windows: up to 35% tint darkness allowed limiting tint to 35% or lighter.
Back seat side windows: up to 35% tint darkness allowed. Back-side windows must allow at least 35% light transmission, restricting tint to 35% or lighter.
Rear window: up to 35% tint darkness allowed 
Medical exemptions allow darker tint on front side windows with a doctor's note.
Mirrored or reflective films are prohibited on all windows.
Violating the tint restrictions results in fines of $75-$750 depending on prior offenses.
Illinois has a statewide tint law that overrides any local regulations.
In summary, Illinois allows 35% tint on rear side windows, limits front side windows to 35% and the rear windshield to 35% tint for passenger vehicles. Only a 6-inch strip on the front windshield can be tinted.
Illinois Tinting Law Video:
On this page we have done our best to collect all of the legal information necessary about the 2023 Illinois tint law, including how dark the tint is allowed to be and how reflective the tint is allowed to be in Illinois. Aside from the basics, like tint percentages, there are also additional car window tinting rules and regulations in Illinois that we have made available.
Illinois window tint law was first put into place in 2009 with Illinois being the 48th of the 50 states to enact these tinting laws.
What does VLT Mean according to Illinois State Law
The percentage of light that a window tint film allows to pass through your car windows is called the VLT (Visible Light Transmission), and each state has different legal allowable limits. The amount of light allowed to pass through your film and glass in Illinois is very specific to the state and is different for Passenger Vehicles and Multi-Purpose Vehicles.
A HIGHER VLT means that more light is allowed to pass through the window tint film.
Example: a 75% tint will allow 75% of the light to pass through whereas a 5% tint will only allow 5% of the light to pass through, making the 5% tint a much darker film.
HOW MUCH DOES CAR WINDOW TINTING COST? The cost of tinting your car windows can be very affordable. If you want to learn 

how much it costs to tint your car, click here

.
Illinois Tint Law – Legal Tint Limit For Multi-Purpose Vehicles
Front Windshield: Non-reflective tint is allowed on the top 6 inches of the windshield.
Front seat side windows: up to 50% tint darkness allowed
Back seat side windows: Any tint darkness can be used
Rear window: Any tint darkness can be used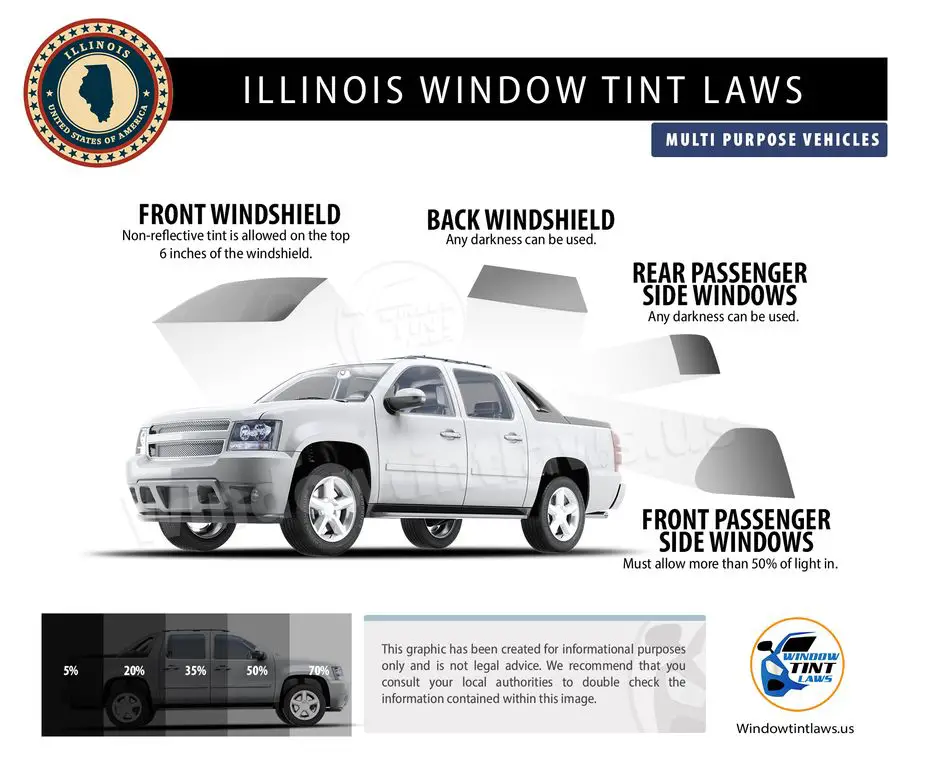 Other Illinois Window Tint law Rules And Regulations:
Illinois has a few other important things that you will need to consider regarding window tinting and we recommend that you check them out before deciding whether or not you tint your windows:
Do I have to have side mirrors in Illinois? Dual side mirrors are required if back window is tinted.
Is colored tint illegal in Illinois? All tint colors are allowed in Illinois.
What are the Window Tint Certification Rules in Illinois? Manufacturers of film do NOT need to certify the film they sell in the state.
Do I need a certified sticker from the company installing my window tint in Illinois? No sticker to identify legal tinting is required.
Are there Medical Exemptions in Illinois for Window Tint? Illinois does allow medical exemptions for special tint. For more details about the specific terms of the exemption, consult your state law.
Always remember that Illinois tint laws can change on a daily basis and these rules and regulations may be interpreted differently on a city to city or county to county basis. We recommend double-checking the information contained on this website with your local DMV or local law enforcement agencies for accuracy. This information relating to window tint laws in Illinois was last updated on August 11th, 2023. Tinting laws in Illinois were enacted in 2009. In case any of our info provided is not up to date or correct be sure to contact us so we can fix it. Thanks!
Illinois Automotive Window Tint Law References
Illinois Statutes and Vehicle Code 625 ILCS 5/ Glass, Windshields, and Mirrors
---
Medical exemptions are permitted. Drivers must obtain a copy of a certified statement or letter from a licensed physician. Illinois laws allow systemic or discoid lupus erythematosus, disseminated superficial actinic porokeratosis, albinism, but also permit other medical conditions to obtain exemptions. Copy of certified statement must be kept in the installer's permanent records.
Medical exemptions are not given when sunglasses or other protective eye devices provide sufficient protection.
The certificate must be renewed every 4 years.
For more information regarding window tint medical exemptions in _____ you can check out this resource:
---
---
State of Illinois Information
Illinois is a state in the Midwestern United States. It is the 5th most populous and 25th most extensive state, and is often noted as a microcosm of the entire country. With Chicago in the northeast, small industrial cities and great agricultural productivity in central and northern Illinois, and natural resources like coal, timber, and petroleum in the south, Illinois has a diverse economic base and is a major transportation hub. The Port of Chicago connects the state to other global ports from the Great Lakes, via the Saint Lawrence Seaway, to the Atlantic Ocean; as well as the Great Lakes to the Mississippi River, via the Illinois River. For decades, O'Hare International Airport has been ranked as one of the world's busiest airports. Illinois has long had a reputation as a bellwether both in social and cultural terms and politics.
What is the Capital of Illinois
The capital of Illinois is Springfield
What is the population of Illinois
The population of Illinois is 12,671,821 according to Wikipedia as of 2019.
What is the area of Illinois
The area of Illinois is 57,914 square miles and ranks as the 25th largest state in the United States!
Check out Illinois's Wikipedia page to learn all kinds of cool facts about the state!
If you want to learn more about the laws in Illinois check out their official Website Here
What are the main cities located in Illinois?

Chicago, Aurora, Rockford, Joliet, Naperville, Springfield, Peoria, Elgin, Waukegan, Cicero, Champain, Bloomington, Decatur, Arlington Heights, Evanston, Schaumburg, Bolingbrook, Palatine, Skokie, Des Plaines, Orland Park, Tinley Park, Oak Lawn, Berwyn, Mount Prospect, Wheaton, Normal, Hoffman Estates, Oak Park, Downers Grove, Glenview, Belleville, Elmhurst, DeKalb, Moline, Lombard, Buffalo Grove, Urbana, Bartlett, Crystal Lake, Quincy, Streamwood, Carol Stream, Romeovile, Plainfield, Rock Island, Hanover Park, Carpentersville, Wheeling, Park Ridge, Calumet City, Addison, Glendale Heights, Pekin, Northbrook, Elk Grove Village, Danville, St. Charles, Woodridge, North Chicago
What are the main counties located in Illinois?

Cook, DuPage, Lake, Will, Kane, McHenry, Winnebago, St. Clair, Madison, Champaign, Sangamon, Peoria, McLean, Rock Island, Tazewell, Kendall, LaSalle, Kankakee, Macon, DeKalb, Vermilion, Adams, Williamson, Jackson, Whiteside, Boone, Coles, Ogle, Knox, Henry, Grundy, Macoupin, Stephenson, Franklin, Marion, Livingston, Jefferson, Woodford, Clinton, Fulton, Lee, Morgan, Bureau, Christian, Effingham, Randolph, Monroe, McDonough, Logan, Montgomery, Iroquis, Saline, Jersey, Jo Daviess, Shelby, Perry, Fayette, Douglas, Crawford, Hancock, Edgar, Union, Bond, Warren, Lawrence, Wayne, Piatt, DeWitt, Mercer, Pike, Clark, Richland, Massac, Carroll, Moultrie, Washington, Mason, White, Ford, Greene, Clay, Cass, Menard, Marshall, Johnson, Wabash, Cumberland, Jasper, Hamilton, Alexander, Schuyler, Henderson, Brown, Edwards, Pulaski, Putnam, Stark, Gallatin, Scott, Calhoun, Pope, Hardin