Last Updated on August 24, 2023 by windowtintlaws.us
WHAT IS AN AS-1 LINE? 
If you're wondering if you can tint your windshield, you need to first grasp what the AS-1 line is and where it's located on your car.
If you look very closely at your vehicle's windshield, you will be able to see a hash sign or other markings on the top or bottom corner of your car's windshield known as the AS1 Line.
These marks are often in tiny letters or numerals indicating the
AS-1 lines are parallel to the top of your car's windshield, or a line five inches underneath and parallel to the top of your windshield. 
This refers to the area above the rear-view mirror, also known as the visor strip for most automobiles. 
The mark was designed to distinguish the most transparent kind of glass used on windshields, as well as indicate the maximum tint level that may be put on the windshield.
No tint film is permitted beneath the AS-1 line, often about five inches down from the top of your windshield, in any state.
WHERE IS THE AS-1 LINE LOCATED ON A WINDSHIELD?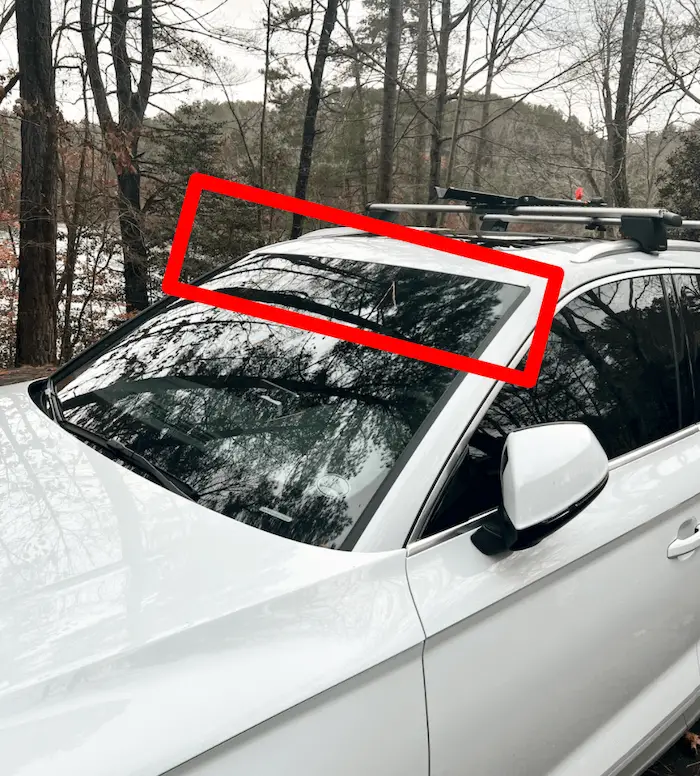 Most often, the AS-1 tag can be found if you look at the bottom edge of your car's windshield, where the glass meets the car.
If the designation is not at the bottom, some cars may have it written at the top corner.
If for some reason there is no indication on your car's windshield of an AS-1 marker, you should contact the manufacturer and inquire directly with them.
Based on how low (from the top of the windshield) you wanted to apply the tinting film, there are specific parameters for each state that will determine how low you can go.
However, the commonality across all U.S. states is that you are permitted to apply a strip of tint film at the top of your windshield that spans several inches in depth and can run all the way across the windshield but not cover the entire windshield.
The AS-1 line is an important reference point for legal window tinting on a car's windshield. Here are some key facts about the AS-1 line:
AS-1 stands for "Automotive Safety Standard 1 Line"
It is the dark dotted line made by car manufacturers at the top of the windshield.
The AS-1 line marks the minimum swept area for the windshield wipers to clear.
In most states, window tint is only allowed ABOVE the AS-1 line on the windshield. No tint is permitted below it.
The AS-1 line helps ensure driver visibility and safety in rainy conditions. Wiper blades must fully wipe the area below it.
On some cars, the AS-1 line may curve or slope downwards towards the driver's side. Tint can only go above the line.
Newer windshields may not have an obvious AS-1 line etching. In that case, there is typically a sticker on the corner with the AS-1 mark.
For vehicles without any AS-1 indicators, it's best to consult your state's window tint laws for guidance.
So in summary, the AS-1 line is an important windshield reference mark that sets the legal boundary for tint in most states. Knowing where it is ensures tinting stays compliant with safety laws.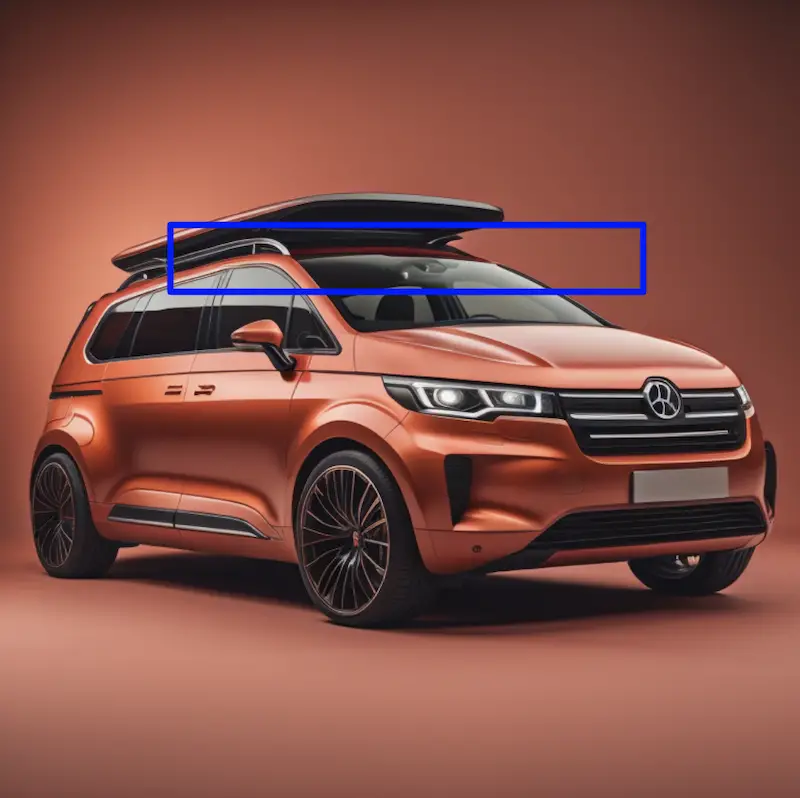 IS IT LEGAL TO TINT YOUR WINDSHIELD? 
Yes, you can tint your car windshield.
However, you should be mindful of the legal limits in each state. 
If you're thinking about getting a professional window tinting company to handle the tinting of your windshield, go with a non-reflective tint. 
To be in compliance with state law, any windshield tint above the AS1 line must be non-reflective. 
Keep in mind, that many states forbid the use of light-blocking tinting on the car's windshield. 
However, this does not exclude you from having UV-blocking, non-reflective window tinting applied.
It just has to be placed above the manufacturer's recommended line.
You are allowed to add a visor strip in whatever color or dark color shade you like, as long as it isn't obstructing your view of the road and does not extend below the line. 
If it does, you run the risk of receiving a fine or ticket.
IS IT POSSIBLE TO TINT PAST THE AS1 LINE? 
While the degree of tint darkness you can tint your windshield will vary from state to state, no tinting may be applied below the windshield's AS1 line.
Nearly every U.S. state has laws governing how much visible light your windshield tint may allow, and others don't permit any tint on the front windshield at all. To make certain that you are not violating any window tinting laws, you should review your state's window tinting laws.
WHICH STATES PERMIT WINDSHIELD TINTING? 
Based on the U.S. Department of Motor Vehicles, Alabama, Georgia, Massachusetts, New Hampshire, New York, Oregon, and Washington permit tinting the top six inches of your windshield as long as it adheres to the respective state's VLT, visible light transmission, tint laws, and requirements.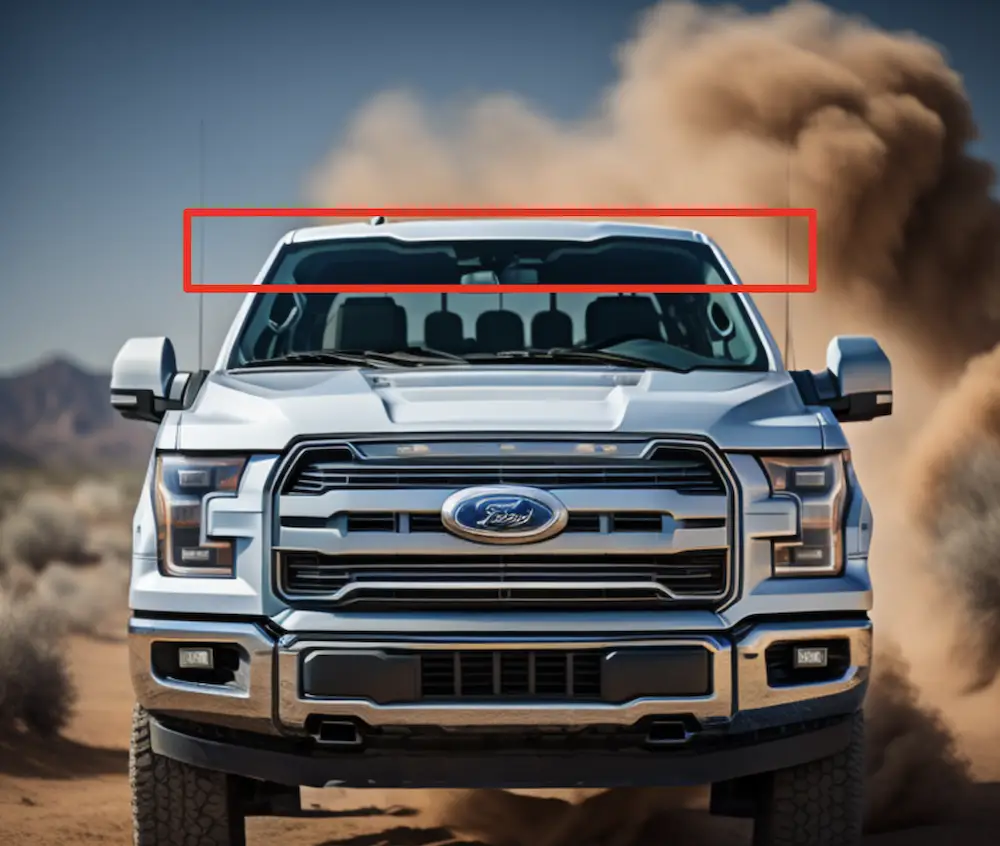 Alaska, Maryland, and West Virginia, on the other hand, permit tinting on the top five inches of the windshield as long as the film's VLT and reflectance ratios are within their legal limits. 
Arizona, Idaho, Iowa, Kansas, Louisiana, Mississippi, Missouri, Montana, Nebraska, North Carolina, Rhode Island, South Carolina, South Dakota, Tennessee, Utah, Vermont, Virginia, and Wisconsin all permit tinting up to the top of the car company's designated AS-1 line. 
Minnesota and Pennsylvania do not allow windshield tinting. 
However, New Mexico, Texas, Oklahoma, Washington, DC, and Wyoming permit tinting within 5 inches of the windshield or whatever comes first from the top of the stated line. 
Connecticut, Delaware, and Florida allow non-reflective tinting above the line, whereas Arkansas, California, Colorado, Hawaii, and Maine permit tinted windshields within their specific constraints. 
OTHER REGULATIONS AND VISIBLE LIGHT TRANSMITTANCE: 
Tinting your side windows is typically allowed in all states as long as you adhere to your state's legal limits.
Remember, the Visual Light Transmittance percentage is defined as the amount of visible light that passes through your windows and into your car. 
A 'lighter' film will allow for 70% of the light to pass through, filtering out about 30%. 
A 'medium' tint can allow for 50% light transmission, and "limo tint" or 'dark' film barely allows for 5% of light to pass through the tinting film. 
In summary, no tint film is permitted beneath the AS-1 line (the line five inches underneath and parallel to the top of your windshield) in any state.
What's your windshield's AS-1 line? 
Inspect the border of your windshield for a hash mark around 5-6 inches from the edge to find out.