Last Updated on August 23, 2022 by windowtintlaws.us
So you're looking to tint your car windows but aren't sure how much you'll need to spend. Here is everything you should consider before tinting your car.
There are several variables that can alter the price of car tinting such as, who will conduct the tint job (a professional or you're an avid DIY-er), the type of vehicle (a coupe vs. a minivan), how large the windows are, the type of window tint film that you're looking to install, and what percentage tint you choose, which should be based on your state's window tint laws. It's important to note that the cost of window tint weighs heavily on the material and technology than the installation itself.
When shopping for window tint, you'll want to keep in mind "you get what you pay for" because a cheap window tint job is exactly that, a cheap job. Below we've broken down for you the different variables that impact window tint costs, and what you should look to spend for good window tinting.
Types of Vehicles
Coupe
You might think that window tinting a coupe would be the cheapest tint job, and it can be. However, some coupes have steep rear or curved windows resulting in a more custom tint job than the average vehicle, which can result in an increase in labor costs.
Sedan
There are not many surprises to look out for when looking to tint a sedan. Most sedan vehicles are close in size with the same number of windows.
SUVs
SUVs typically have larger windows than coupes and sedans, both larger and taller. For this reason, pricing will be a little higher than a standard vehicle.
Trucks
Because there is an array of truck sizes, tint cost will depend on the size of the truck you are looking to tint.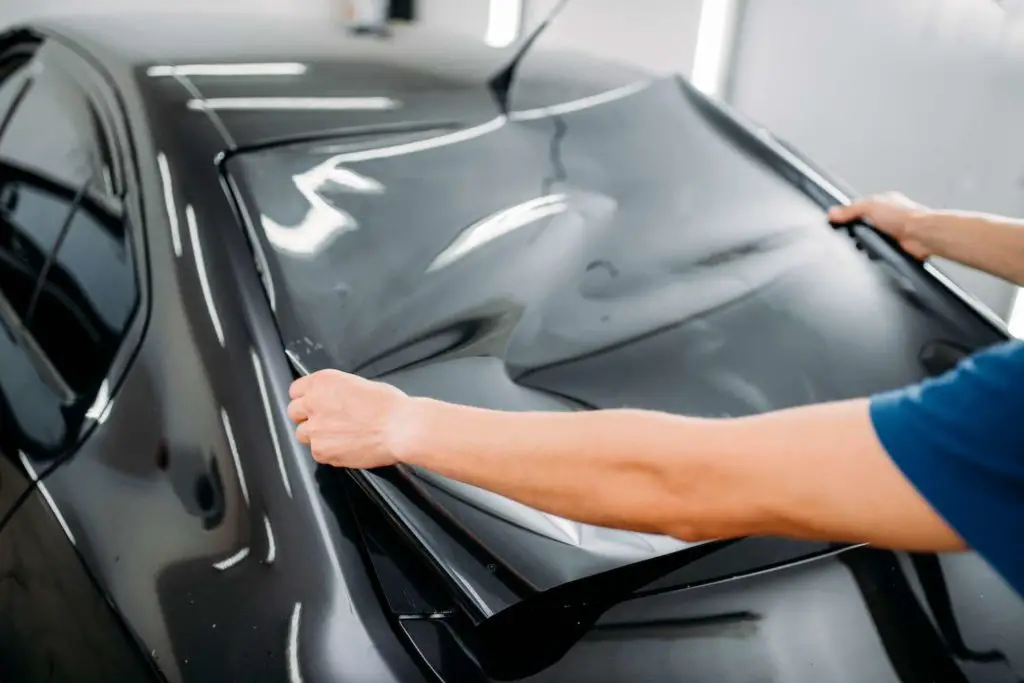 Types of Car Window Tint
Now that we covered the different vehicle types and what about them can affect price, next we'll review the most important factor: types of window tint film. Below are just a handful of popular tint films with information you'll want to consider before you begin a tint job. To see a full list of popular films and how they compare to one another, click here.
Ceramic Window Tint
A high-performance window tint, thus the most expensive. Ceramic window tint offers an array of benefits including the best possible levels of protection, while also keeping your car's interior colder. This tint doesn't include any dyes, metal, or carbon, making it the most transparent film available.
Dyed Window Tint
Opposite of Ceramic tint film, dyed window tint is the least expensive option available. This is because it has less technology, resulting in less-favored functionality. Dyed window tint is exactly how it's described, dyed, meaning that as time progresses and the sun hits your windows, the more the dye fades, impacting the color of the tint. Dyed window tint is often used for those cheaply promoted window tint jobs that you might think is a "great deal", but may regret your decision throughout its natural wear and tear. If you're looking to go a more affordable route, and are simply tinting your car for cosmetic purposes, dyed window tint might be a good option for you.
Metallized Window Tint
A benefit of Metallized window tint is that it carries metal particles that not only strengthens the windows but gives off a mirror-like glare from the exterior. The issue with this technology is that the metal can interfere with electronics being used in the car, ie. GPS, phones, radar detectors, and the radio.
Metal/Dyed Hybrid Window Tint
Hybrid window tint is a high-performing option, somewhat similar to ceramic. The technology of hybrid tint is exactly how described, a film that incorporates both dyed and metal components. This film makes an excellent option for those looking for protection again UV rays and glare, as well as restricting heat from passing through the film.
Carbon Window Tint
Carbon window film is a great option for heat and glare reduction, making it a good option for those living in warm temperatures. Carbon film uses a patented nano-carbon technology that provides a dark black tint and a resistance to fading. Because of its technology, carbon film has a matte finish as opposed to a glare finish similar to other films. Carbon window tint is more expensive than standard films but more affordable than Ceramic tint film.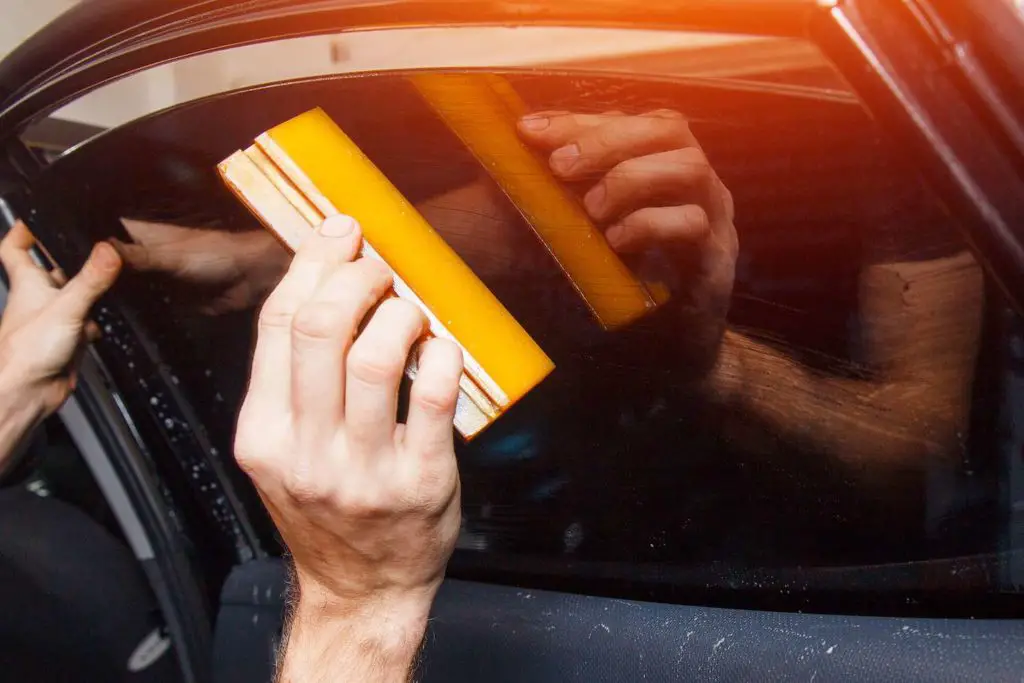 Professional Tinting vs. D-I-Y Tinting
As mentioned before, the cost of tinting car windows relies more on the technology of the tint film and the amount of tint needed for the windows, and less on the labor itself. If you think you'll be saving costs by doing the installation yourself, you might save less than you'd expect since you'll need to still cover the materials.
Professional window tint shops can make it an easy, guided process. Tint shops can help pair you with the right tint film for your vehicle, they will make sure the tint percentage is within state limitations, and they'll execute a nice tint job with hopefully a guarantee.
If you're still looking to do it yourself, (click here for D-I-Y step by step instructions) before purchasing a window tint kit, the most important thing you should do is review your state's window tint laws. This will ensure that you purchase tint within your state's restrictions, as violating these laws can result in fines. You'll also want to make sure that you have the tools to get the job done right. We recommend these tint kits that are affordable, yet highly recommended by our Window Tint Laws community:
Ehdis Vinyl Wrap Tool 7 Pieces Vehicle Window Tint Tool Kit Car Glass Protective Film Wrapping Installation Set Included Vinyl Squeegees, Mini Scraper, Film Cutting Knife with Blades
---
Luxiv Car Window Tint Application Tools Kit, 9 Pcs Vehicle Glass Protective Film Installing Tool Car Window Film Squeegee Automotive Film Scrapers Window Tint Tools
---
Using the right products will help you achieve a professional-looking paint job with no bubbling. We recommend taking a look at our recent post on how to avoid bubbling before starting your tint job.
Want to D-I-Y?
How to tint car windows. To Do-It-Yourself, check out how to tint car windows here.
Warranty
Lastly, something you may not have considered until now is a car tint warranty. If you anticipate getting your car windows tinted by a professional, you may be offered the choice to opt for a warranty. This is something to think through, especially if you'd like the security of knowing that whenever there is an issue with your tint, whether it's a small tint bubble or fading, you can always bring it right back to the shop for repair. If you're looking to install window tint yourself, a warranty is no longer an option and you'll be having to repair any issues that can come along, even from simple wear and tear.
Summary: The Average Cost for Car Window Tinting
If you're looking to professionally tint a standard vehicle, such as a sedan with 4 windows, using standard film such as dyed window tint, you should anticipate spending around $100 for the entire vehicle. However, if you're looking to reap the benefits of a higher quality tint, especially living in warm climates, you should look to spend between $200 to $400 for the entire vehicle, depending on the size of the vehicle and its windows, the number of windows, etc.) Remember that laws vary by state, so these prices may fluctuate depending on the tint film percentage you can get.
Our two cents…"You get what you pay for" is a good statement to consider when window tint shopping. If you're looking to budget on window tint, there are surely lower-cost tint options, however, they often look cheap too. If you'll looking to not only have a beautiful looking tint on your vehicle, but to also reduce glare, UV rays, and restrict heat from entering your car, you'll want to increase your budget for a higher-performing tint film.