Last Updated on August 23, 2022 by windowtintlaws.us
Window tinting is still a task that lends itself to a do-it-yourself approach if you are so motivated.
Window tinting can provide more than just aesthetics and extra-sleek appearances.
The finest window tint can shield you and your car from the damaging effects of the sun. It makes the interior of your car cooler and provides you and your occupants with some privacy.
It also increases fuel efficiency since your car's air conditioning system will not have to work as hard as it would if your windows were not tinted.
These various advantages should be sufficient motivation to install the best automobile window tint available. After all, your vehicle is deserving of nothing but the finest. 
So, if you're willing to invest in what's best for you, your passengers, and your car, make sure to select the best DIY window tint kits on the market. Keep in mind that not all tint kits are created equal.
Below is a detailed breakdown covering the top tint kits that will make the installation process straight forward and leave your window film looking great.
Take a look at them below: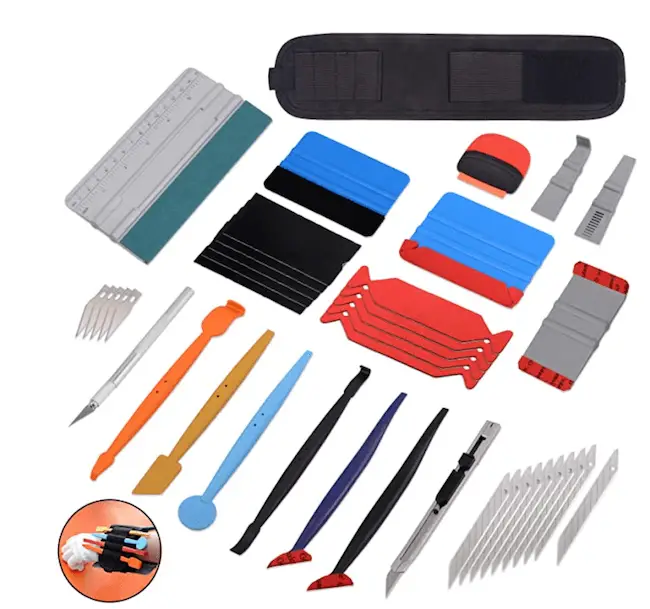 The first window tinting tool kit that we love is the Gomake vinyl wrap window tinting tool kit. This fantastic window tinting tool kit is perfect for beginners who would love to get into this project and give their car an aesthetic appearance. This fantastic kit includes a 6 Inch Felt Squeegee, Edge Wrap Squeegee, Distance Cut Tool, Art Knife and Blade, Razor Scraper, Safety Vinyl Cutter, and Micro Magnet Squeegee. This tool kit makes it easy for individuals to apply films precisely and perfectly to their car windows. The razor-cut blades give you the perfect film cuts which will fit amazingly to your windows. This tool kit is also straightforward to use and only requires a few practices to get into all angles of the vehicle's windows. This kit is easy on the pocket and retails for less than most other DIY window tint kits.  
FEATURED HIGHLIGHTS: 
It is easy to use and only requires a few takes to use all tools efficiently.  
This kit includes all tools which you need in a beginner's DIY window tinting project. 
All tools included in the kit are made of high-quality plastic.  
All tools are scratch-resistant and can be used for a long time without any wear and tear. 
This incredible Wrap tool kit by Newishtool is extensively used in vinyl wrap applications, car window tinting, contact paper installation, wallpaper installation, paint protection film installation, solar film installation, and vinyl wrap vehicle applications. This Vinyl wrap package is perfect for your car, family, garage, business, or warehouse. It is a complete vinyl wrap tool kit that makes wrapping a car more straightforward and more efficient. The vehicle wrap set includes a toolkit bag with many compartments for keeping tools and a rear clip design for convenient carrying. This car wrap kit includes rubber ppf tools, vinyl squeegee, spare felts, wrap knife, vinyl wrap cutter, micro squeegee, window scraper, air release bubble-free pen tool, mini corner squeegee, and a heat gun to perfectly apply any tint film on your window. 
FEATURED HIGHLIGHTS: 
This kit is easy to use and is pocket-friendly for any DIY window tinting project. 
This kit included multiple tools made with high-quality rubber and plastic material.  
This kit includes a heat gun to apply tint films perfectly without any bubbles. 
This kit also comes with four magnet pieces, which help fix the film in position and free your hand.  
The next window tinting tool kit on our list is this professional Gomake full-size vinyl wrap tool kit. This is the most wonderful and professional automobile window vinyl film wrap application and installation tool Kit, which is excellent for rapid and easy installs. It is appropriate for installing all forms of window tint, decals, signage, wrap film, automobile vinyl cutting, and wallpaper. This kit includes various vinyl squeegees, a wrap stick, a film cutter, a plastic scraper, a magnet holder, a vinyl glove, and a heat gun. The vinyl wrap tool kit includes a micro wrap stick squeegee with various terminals to wrap most tight crevasses, thin curves, shapes, and edges. The heat gun included in the box is of exceptional quality of 110 V, 1800W, and has a US Standard plug with a digital display. The heat gun may be used to apply vehicle sticker vinyl or quickly remove old films or paints from the car body/window without leaving any trace.  
FEATURED HIGHLIGHTS: 
This tint kit is a professional window tinting kit with all the basic and advanced tools needed for this task.  
All tools are made of high-quality material and are durable.  
This kit includes a lot of equipment such as many kinds of squeegees, vinyl gloves, cutters and razors, blades, and a heat gun.  
It also comes with four pieces of magnet to help you perfectly position your film on the windows.  
The last car window tinting kit that we absolutely loved is this tool kit by VZCY. It is an easy-to-use and pocket-friendly tool kit with all the essential tools needed for this DIY project. This vinyl packaging kit contains a 1800W heat gun with an American plug, a vinyl scraper wrap rod, a film cutter, a plastic scraper, a magnet holder, vinyl gloves, an 8-piece tiny squeegee, four vinyls wrap magnet holders, and other accessories. The vinyl-wrapped heat gun with a digital display quickly removes old film or paint from the automobile body/window without leaving any trace. It is equipped with a deflection nozzle simultaneously, allowing you to place wrapping vinyl in various sections of the automobile using two distinct nozzle modes. The vinyl wrap toolset also includes several types of squeegees and scrapers that can efficiently remove air bubbles and eliminate scratches. The safety cutter may be used for both safety cutting and bottom paper cutting. 
FEATURED HIGHLIGHTS: 
All tools included in the kit are easy to use.  
The equipment is made of high-quality material and is durable.  
It is perfect for beginners as well as professionals who want to step up their window tinting game.  
This kit is the best value, pocket-friendly tool kit.  
DIY WINDOW TINTING KITS: FREQUENTLY ASKED QUESTIONS
HOW LONG DOES IT TAKE TO TINT CAR WINDOWS? 
Vehicles differ from one another. Installation takes around an hour on average. Some elements that may influence the time involved include the kind of vehicle; the number of technicians working on the car; any unanticipated circumstances, such as the necessity to remove a rear decklid; and the removal of existing tint.
ARE TINTS APPLIED ON THE INSIDE OR THE OUTSIDE OF THE VEHICLE? 
All tinting is done to the inside of the windows of the car. On occasion, a client may observe preparations being made on the outside. On cars, window tint is hand-cut on the outside of the glass according to the size of the surface and then placed on the inside.
DO WINDOW TINTS/FILMS PREVENT IT FROM BREAKING? 
No, window film does not keep the glass from shattering. Window film does enhance the safety of the glass; thanks to a potent adhesive, the film helps to hold shattered glass pieces together. If the glass breaks due to a vehicle accident, a person running into it, or an attempted burglary, the glass will fracture, but the film will help hold the glass together in most cases. 
HOW SHOULD I CLEAN THE WINDOWS AFTER GET THEM TINTED? 
Wait a week after installing window film before washing the inside of the window where the coating was put. After a week, clean the windows using an ammonia-free window cleaner and a clean microfiber or rubber squeegee. We suggest foam cleaners since they do not leave streaks and are typically devoid of ammonia. Never scratch the film with a razor or use anything abrasive to clean your tinted windows, as this can harm the film. 
FINAL THOUGHTS: 
DIY window tinting is a simple method to save money if you have steady hands and plenty of patience. If you can clean your window, cut the film precisely, and utilize all of the equipment to make the most of this DIY project, then select the best kit that you believe best matches you from the toolsets mentioned above and get started with this enjoyable and exciting work.