In today's ever-changing automotive world of innovation and technology, styling your automobile is a never-ending pursuit.
Car manufacturers worldwide are releasing newer models that showcase the current trends in style and functionality that redefine vehicle comfort and safety. Major automakers incorporate technology and innovative designs into their car ranges to capture a larger market share.  As a result, automobile owners are left with new vehicles that are soon out of style, even after only a few months or a year or two from the purchase date.
This is when after-market automobile modifications and styles come into play.
Upgrades provide car lovers the opportunity to express their creativity by tinkering with the car's exterior and interior looks, as well as everything beneath the hood, to keep their vehicles up to date with the current automotive-style trend.
Tinting your car's headlights are one of the innovative styling upgrades that every car owner can do and keeps your car looking stylish.
Headlight tinting is a personal style option that extends the automobile tinting beyond the windows and includes the headlights.
Grey and smoky films are generally popular selections. These headlight tints are ideal for giving the vehicle's front end an edgy and menacing appearance.
There are hundreds of headlights tinting films available on the market, which often confuses people to choose the best. That's why we are here today to give you an overview of our favorite headlight tint films. We have tested and applied all of these vigorously and have concluded these six headlight tint films as the best in the market.
So, let's dive deeper and learn more about them.  
| | | | |
| --- | --- | --- | --- |
| | | | |
| | VViViD SMOKE BLACK GLOSS VINYL HEADLIGHT TINT | | |
| | VViViD BIO HEX+ AIR-TINT HEADLIGHT VINYL ROLL | | |
| | VViViD EXTRA-WIDE HEADLIGHT TAILLIGHT VINYL TINT WRAP | | |
| | VViViD AIR-TINT EXTRA-WIDE HEADLIGHT TAILLIGHT VINYL TINT WRAP | | |
| | VViViD AIR-TINT DARK BLACK HEADLIGHT TAILLIGHT TINT AIR-RELEASE VINYL WRAP FILM ROLL | | |
| | DIYAH 12 X 48 INCHES SELF ADHESIVE HEADLIGHT TINT FILM | | |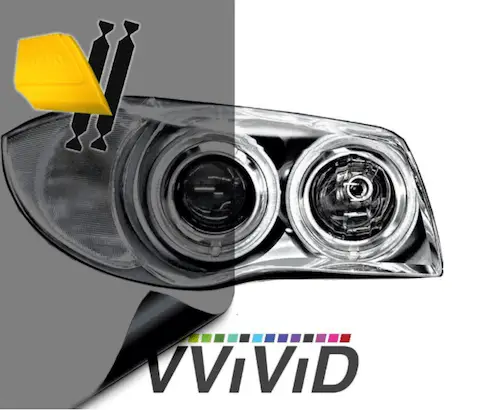 The first item on our list is this fantastic VViViD tint wrap, ideal for use on damaged or broken headlights. You may place these on any headlight to keep it secure and shield it from harm. The wrap may be stretched to suit any size and shape of the headlight. After you've determined the size of the headlight, you may trim the excess wrap. This wrap is made of high-quality vinyl. Vinyl wraps are inexpensive, long-lasting, light in weight, and resistant to water, scratches, and dirt. This vinyl tint wrap on the headlight may be removed without leaving any scratches or markings on the headlight. 
When the headlight is wrapped, the vinyl material allows the air below to escape rapidly without allowing any bubbles to form. A yellow squeegee is included with the wrap. You may use this to remove any liquid used to clean your headlight and apply your vinyl wrap on the headlight uniformly. 
Feature highlights: 
It can stretch and wrap on any shape of the headlight 
It comes with a squeegee to help you uniformly apply your headlight tint film 
It has an air release pattern to avoid bubbling 
It is made on durable, light-weight vinyl material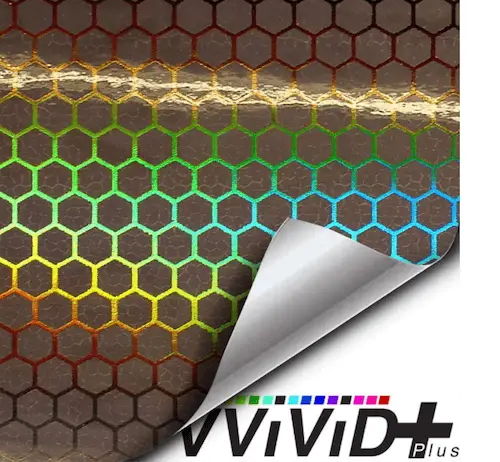 The next product in our loved headlight tint film compilation is this holographic and unique VViViD bio hex air tint headlight vinyl wrap. These films use cutting-edge manufacturing technologies, including a novel holographic layering technique integrated into the film during manufacture. This hue produces a holographic appearance when light strikes the film directly, a subtle but highly distinctive characteristic. These new BIO HEX+ tints are available for installation as a tint, lamination, or color change film. Because of its Ultra-Clear Adhesive, you may lift and place this tint several times without the fear of leaving fingerprints, glue lines, or marring. It comes with a squeegee for evenly applying the tint on your headlights. 
Feature highlights: 
It gives a high-gloss holographic look to your headlight 
It comes with a squeegee to evenly apply the tint  
It can be lifted and repositioned multiple times 
It can be used as a tint, lamination, or color-changing film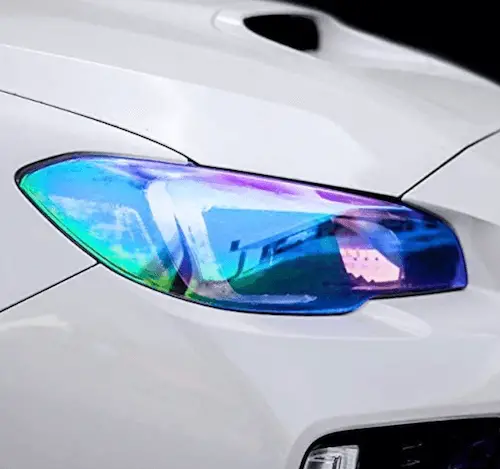 Chameleon Headlight Tint Vinyl by VViViD Vinyl adds flair and protection to your lights! This simple-to-use vinyl roll is long-lasting and lightweight, making it an excellent choice for replacing possibly damaged lights. It is the thickest and most durable headlight or taillight tint available, providing a unique and one-of-a-kind long-lasting multi-color finish that will not fade away. Each vinyl sheet has an air-release adhesive backing that makes installation simple for people of all skill levels. It enables you to lift and reposition this tint several times without risking fingerprints or adhesive marks. This extra-large roll is suitable for any vehicle's headlight or tail light. 
Feature highlights: 
It is a ready to use, pre-cut product 
It possesses an air release membrane which leaves no place for bubbles 
The tint can be lifted and repositioned multiple times 
It provides an incredible high-gloss finish to your headlights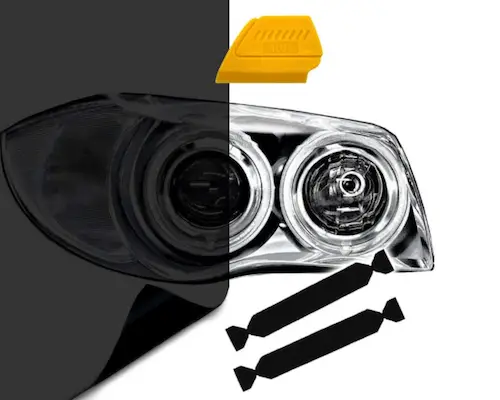 This product's name says it all! These extra-wide tint films are ideal for adequately covering your big-width taillights. You may even use them to color the tail lights of your SUV, truck, or trailer. This VViViD Air-Tint Extra-Wide Tail Light Tint Wrap is available in 9 distinct fantastic color hues and comes in a 16"x 48" roll. This tinted film is composed of high-quality materials and has an air-release membrane. This ready-to-use wrap is simple to apply and perfectly complements and blends with the curvature of your headlamps. This product's unique features include the included Yellow Detailer Squeegee and Anti-scratch Black Felt Edge Decal. 
Feature highlights: 
It possesses an air release membrane 
It is made with automotive-grade scratch-resistant vinyl cast 
This extra-wide tint film can be used to wrap big vehicle headlights 
It comes with a yellow squeegee, and 2x anti-scratch black felt edge decal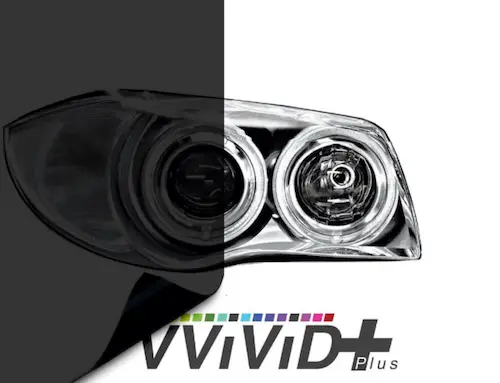 The VViViD Air-Tint Dark Black Headlight Taillight Tint Air-Release Vinyl Wrap Film Roll is constructed of automotive-grade and very resilient casting vinyl with an acrylic-based bonding agent that, unlike some other tints on the marketplace, will not erode through the polymer and the headlight covering. As a result, possible harm to the lights is avoided. When applied with heat to adapt to any shape, the Vvivid headlight tint possesses an air release that avoids bubbling, and it has self-healing qualities that make imperfections on the headlight glass disappear. The headlight tint film is 80 percent colored smoke with a 20 percent VLT transmittance rate. 
Feature highlights: 
It is easy to apply and comes in pre-cut sheets 
It can be wrapped on any shape of the headlight 
It possesses an air release function that avoids bubbling 
It includes a self-healing coating that eliminates scratches.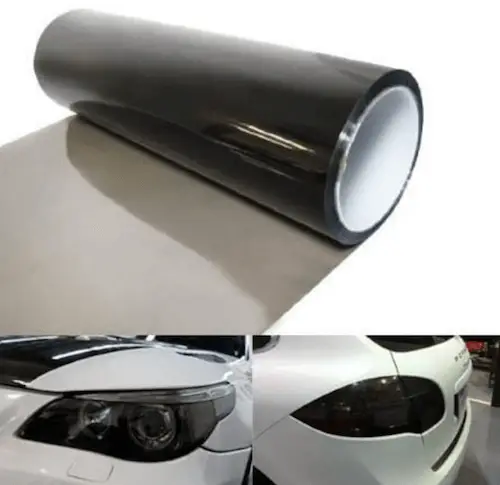 The final product on our list is a multipurpose film. They are suitable for use on headlights, fog lights, and taillights. You don't have to worry about UV rays wearing them off because it expands with heat. The film is 12×48 inches long. You may use these measurements to wrap your headlights, fog lights, and taillights. This film is comprised of a self-adhesive, dark black vinyl material that can be applied to any headlamp. Peel and attach the film to your vehicle's headlights. The material expands with heat and is water-resistant, so you can effortlessly wash it with water. You merely peel the film off the headlight to remove it, and it will not leave any residue on the headlights. 
Feature highlights: 
It is water-resistant, which makes cleaning easy 
It can be stretched with heat and wrapped on any size of the headlight 
It doesn't leave any residue after removal  
It can be used on taillights, headlights, and fog lights 
HEADLIGHT TINT FILM – FREQUENTLY ASKED QUESTIONS: 
Is it possible to apply window tint film on headlights? 
Window tint is composed of polyurethane, which shrinks when heated and may be machined to a thinner thickness than vinyl. Because it shrinks rather than expands when heated and thin, it does not function well on compound curves, which are typical in today's headlights. 
Is it possible to tint over aftermarket tint? 
If your vehicle has an aftermarket tint, it is recommended that you remove the existing tint before applying a new tint layer/film. It is challenging to tint over aftermarket tint, and stacking it may make it darker, compromising lens/cover visibility. 
Is it true that tinting headlights reduces light? 
To some degree, yes. Lights are affected by tinting films. The brightness of the light is reduced. However, how dark you want to tint is all up to you. The film should not be too black since this may be harmful to you, your co-passenger, and other riders on the road because it reduces visibility. As a result, you should ensure that the tint is gently smoked, which provides the automobile a pleasant aesthetic while still maintaining visibility. 
FINAL THOUGHTS: 
Due to state regulations, headlight tinting may not be as common as automobile window tinting, but it is gaining momentum. However, if they are permitted in your region, why not add elegance and protection to the headlight? They are also available in a variety of colors. You have the option of having yellow, blue, red, purple, or green headlight tints. Other options are Rainbow headlight tint, colored headlight tint, vinyl headlight tint, and smoke headlight tint. You may design your automobile and give it that extra sleek look without drawing the attention of traffic officials if you know what is authorized by law and adhere to the restrictions.