Last Updated on August 23, 2022 by windowtintlaws.us
The goal of this article is to review the top Window Tint Meter models available, go over the pros and cons of each and provide you with reviews of the best window tint meters to buy.
Car window tint measuring devices work by measuring the visible light transmission of automotive glass as well as flat glass. Most tint meters today are portable and compact, making it easy to transport around if you need to frequently test various vehicles.
Some FAQ's About Window Tint Meters
What is a window tint meter?
A Tint Meter is used in the automotive industry to measure the visible light transmittance of automobile window tint. The tint meter will check the car window's transparency and test the visible light that passes through and show you a reading of the tint darkness using a light sensor.
Best window tint meter to buy
There are a variety of meters available to buy. Most of them share the same core features but based on your specific needs, how often you will be using the tint meter, battery, and button preferences, you can select the best one to buy for you. Below we have compiled and reviewed several tint meters that are easy to navigate and address the overall need to know the exact tint percentage of the film in question.
How do window tint meters work?
Window tint meters work by measuring the amount of visible light that passes through the car's window glass as well as the window tint film. Tint Meters measure at a wavelength of 550 nanometers that corresponds to the color green. The meter will scan the VLT of the film and display the test results on the meter's built-in LCD screen providing you with the film's exact tint percentage.
Window tint meter accuracy
Car window tint testers are extremely accurate often calculating anywhere from within 1 percent of the light transmittance to within a tenth of a percentage point depending on the exact model you use. The accuracy comes from measuring the visible light transmittance (ie light transmittance), infrared rejection rate, and ultraviolet rejection rate of automobile glass. Through measurement, the tint test can display the transmission degree percentage of the car glass film as light passes through it.
How do you use a tint meter?
Tint meters are fairly simple to operate. Remove the meter from its case and push the power button on the device. Make sure both the meter and the window are clean and dirt-free. Simply place the instrument on the window and within a second or two, the reading should display the visible tint percent. When you are done, hit the power button to turn off the meter. Some tint meters have a built-in back-light display, which makes it great for getting an easy and reliable read, even when using the application at night time or in the dark.
Window tint meters for sale
Several different companies offer window tint meters for sale. Each with its own pros and cons and below you can evaluate some of the best options on the market. Window tint meters are a handy tool, often purchased by law enforcement in order to gauge the percentage of tint on a citizen's vehicle, or by specialists in the tinting, industry to make sure their services are accurate for their customers after completing a tinting job.
Window tint meter iPhone app
In 2022, there are smartphone applications you can download to get a reading of the functional light intensity. While we won't be reviewing them in detail in today's post, we did want to mention them if this is something you're interested in. These apps, such as the Lux Light Meter Pro, can be downloaded from the App Store on your iPhone. Some even have a free app that only needs an internet connection and the phone's front camera pointed at the glass to determine the VLT with great accuracy.
Not surprisingly, Amazon has many meters available that will show readings for the tints VLT. Below we've listed some of the best options and provided easy links if you want to purchase them straight through Amazon.com.
What Model Window Tint Meter Should I Buy?
Coming in at number 1 on our recommendation list, we have The Enforcer II Tint Meter. This window tint gauge is one of the most reliable at gauging the visible light transmittance that tint film allows. The Enforcer II is actually one of the less expensive options from our list and yet delivers a great product nonetheless. Manufactured by Laser Labs, the Enforcer II tint meter weighs about 2 ounces and batteries come included with the purchase. We like this tint meter for its reliability and knowing that local police around the world use this tint meter.
The Enforcer II Tint Meter gets a solid 5.0 out of 5 rating.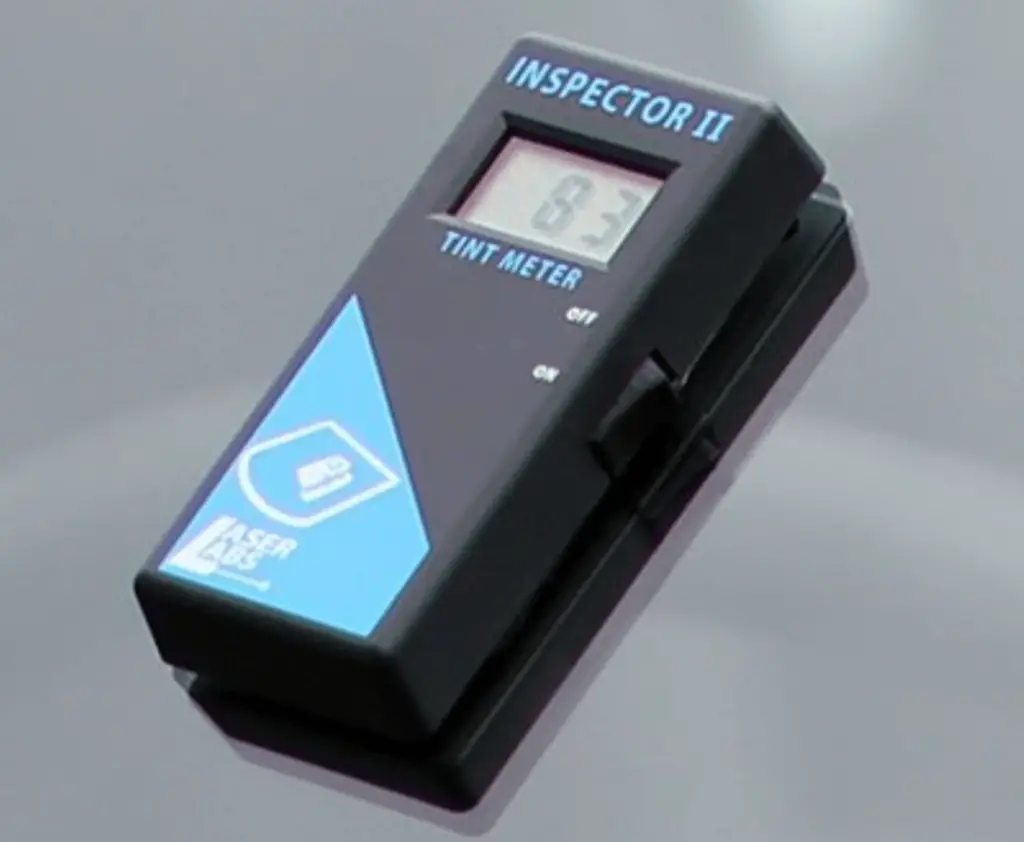 The Laser Labs Tint Meter Inspector II TM2000 is an excellent purchase with its great digital display, easy-to-navigate interface, and quick testing controls. Built in the USA and also used by police across the planet, this tint meter is a solid 2nd place runner-up option. Price-wise, this option is a bit higher than the previously mentioned Enforcer II but is handheld, can fit in your pocket, and a great choice for on-the-go users or mobile tinting providers.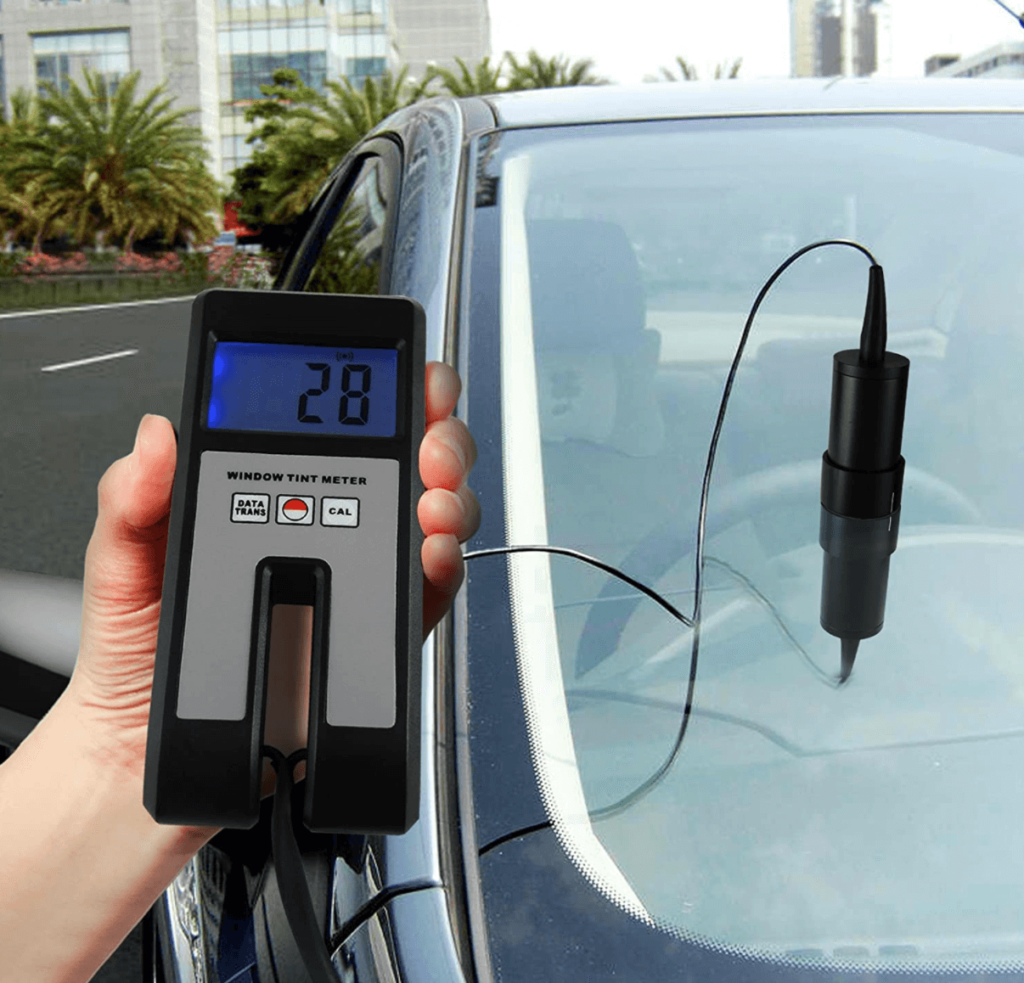 The Landtek Instruments Window Tint Meter Visual Light Transmission 18mm Digital Tester is produced by Gain Express and weighs just under 2lbs. Price-wise it fits in comfortably between the aforementioned tint meters and is just slightly larger. This tint meter gives an easy reading anywhere from 0% to 100% tint grade and claims to be accurate with less than 2% VLT. The Landtek 18mm Digital Tester does a good job of blocking out stray light during testing as it does not seem to be impacted by outside or stray light. We like this model for its continuous measuring mode, so as you scale up and down the window, the tint tester adjusts accordingly. A nice feature if you are working with a tint that has a gradient.
Coming in at #4 on our recommendation list, this compact, portable, battery-powered, and ultra-low power consumption tint meter has some great perks. Suitable for measuring film, filmed glass, window tint, side windshield, and more it is highly versatile. Produced by MR CARTOOL this mostly plastic tint meter falls on the lower end of the price chart and still delivers a tint reading. A nice feature about this tinter is its ability to provide results for UV, VL, and IR transmission values all at the same time.
Best Window Tint Meter Gauge To Buy – Product Review
In conclusion, while there are many film tester options out there. The above options have been shown to provide the most accurate and reliable readings.
This is based on a full evaluation of criteria including digital display, customer feedback, VLT accuracy, battery power, measurement, ease of use, purchase price, factory conditions and industry standards.
Depending on which tint meter you choose, the shipping and delivery of your tint tester can easily be arranged simply by ordering using some of the links above. All of the meters listed are designed to provide full test results. Check against the car windows or the correct locations on the windshield and the LCD screen will display the results.