Last Updated on August 25, 2023 by windowtintlaws.us
Chameleon Window Tint: Is it legal and how much does it cost?
Chameleon tint is different than your ordinary window tint film in that it has colored dye in the film.
This color, generally of a purple, blue, and green gradient, will appear to change colors as the tinted vehicle is in motion or the angle of the sun/light changes.
This gives the windows of the car a shifting look and the impression that they are always changing colors, just like a chameleon.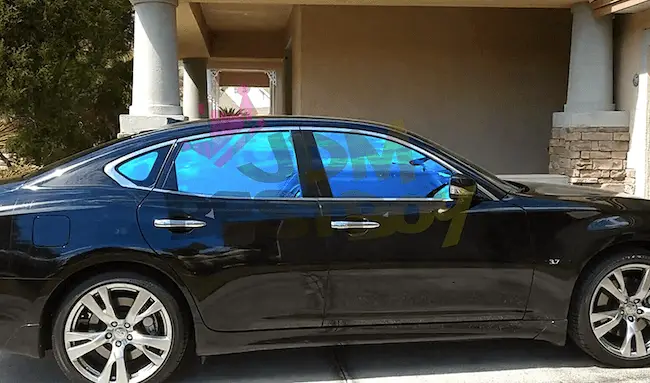 What Is Chameleon Window Tint?
Chameleon tint refers to a specialized type of window film that can change tint levels in response to electrical voltage.
Here are 10 key facts about chameleon tint:
It contains specialized liquid crystals sandwiched between two layers of film.
When an electric current is applied, the crystals align and darken, causing the tint to intensify.
Removing the current returns the film to its original lighter tint.
This allows the driver to dynamically control the tint of darkness, like sunglasses.
Darkness can be adjusted from very clear (over 70% light transmittance) to quite dark (5% transmittance).
Typically controlled by a phone app or button to activate the tint.
Installation requires running thin wiring through the window frames.
Benefits are privacy, glare reduction, and temperature control on demand.
The downsides are higher costs around $500-1000 per window and complexity.
Legality varies by state since darkness can exceed limits.
Overall, chameleon tint offers unique benefits but isn't practical or legal for many drivers.
Simpler traditional tint still provides good functionality for most people.
Chameleon Window tint is an automobile window tint film style that provides a gradient-like coloring to the tint, it is available in different shades and colors.
One of the most distinctive features of this tint is that it can change its color according to the outside environment.
The factors responsible for this color alteration include weather conditions, temperature, different angles of view, and lighting.
This means that the tinted window or headlight tint that is treated with the chameleon film will appear to be changing its color depending on the sun and other technical indicators.
The best part is that treating your car with a chameleon tint won't affect your visibility from inside the car. However, people outside will not be able to see the inside.
Why Use Chameleon Tint film?
Chameleon tint film ensures high-level privacy and acts as a UV protection tool as well as adding a unique aesthetic appeal to your vehicle.
Many car enthusiasts are of the opinion that chameleon window tint in varying colors such as blue, purple, and more enables your car to shine in the crowd, both in terms of function and style. 
Simply put, it's an attention-grabber. Not to mention, this type of film will considerably help you protect the condition of your interior from fading.
Also, there is better temperature control inside your car.
Among other things, if there is broken glass, the chameleon film can act as a safety net and security, keeping the glass from entering the cabin of the vehicle.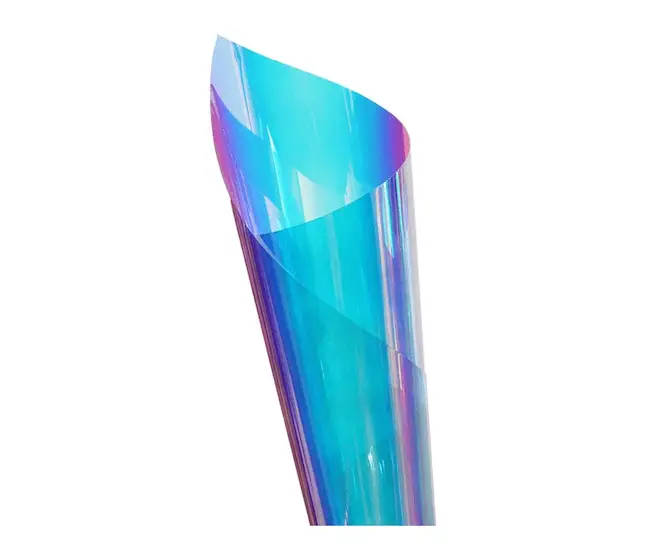 Is Chameleon Tint Legal?
The short answer is " Yes" it is legal in the United States.  However, the exact laws regarding the application of chameleon-style window tints on a state-by-state basis. 
Usually, Chameleon with 85% visible light transmittance is legal in most states and it's even possible to use it on your windshield, up to the car's AS-1 line. Chameleon films with a 78% to 70% visible light transmission are impermissible for the front windshield.
The aspect you will want to double-check from a legal standpoint is how much is light transmitted through the film and is that percentage acceptable in your state.
Internationally, most countries set a legal limit to not allow tint darker than 70% for the front windows (driver side and front passenger).
But, if you prefer a darker tint, you can install them on the rear side windows (typically the back two side windows allow for a darker tint, allowing less visibility.
To be smart, before you purchase chameleon films, make sure you select a professional tinting company that will comply with the legal request of the state.
Even if you are shopping online, make sure you are purchasing the right shade and percentage for your vehicle, as per your state limits.
These precautions will help you avoid any kind of issues on the road as well as unnecessary citations.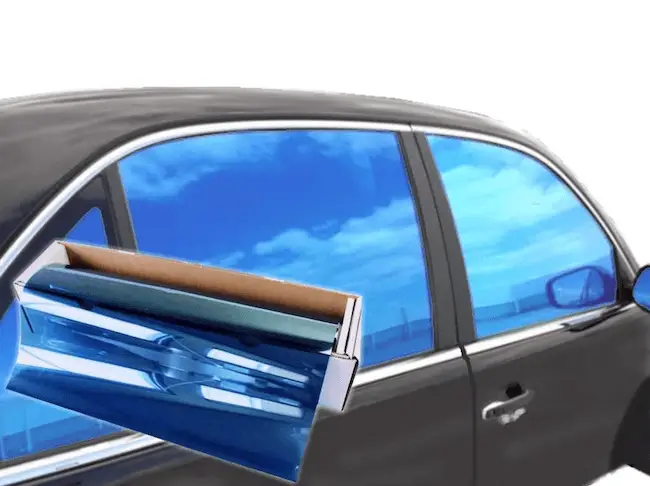 How much does Chameleon Tint Cost?
Just like any other type of window tint, the cost of the chameleon tints varies and depends on a variety of factors.
For instance, the amount of tinting material you want and the quality of the film will impact the price.
However, on average you should expect to pay something in the range of $100-$400 for the full car. These figures can be less or more than this bracket depending on your unique circumstances.
You can also check ultravision chameleon series and choose one that fits within your price range.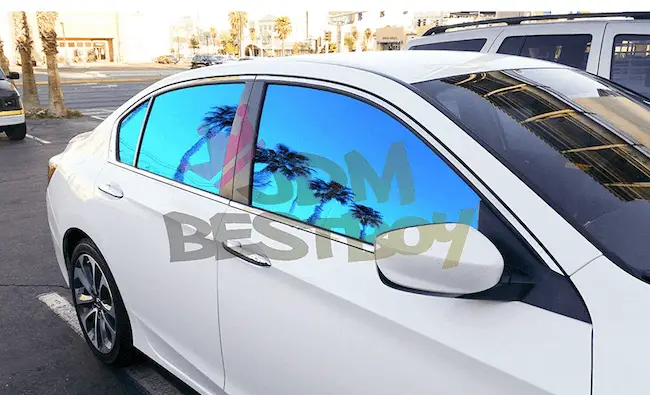 Factors  Affecting The Cost Of Chameleon Tint
Let's deep dive and check out a few factors that act as a determinant for the cost of chameleon tint
Vehicle Type
Of course, the type of vehicle, its make and model, and how many windows need to be tinted is number one.
A vehicle with fewer windows will need less tint film and will cost you less. Similarly, a vehicle with an easy-to-handle window will need less time and effort and will cost you less.
A unique vehicle model with a complex design may cost you more. 
Applying Chameleon Tint
The installation process is very similar to your traditional tint film application methods.
The chameleon film can be applied right to the surface of your windows. 
Sometimes if your windows were already treated with tint film, the service provider will have to spend time removing and cleaning the glass before window tinting. 
In this condition, they may charge you more. Overall, the chameleon window tinting costs have risen considerably due to the labor and installation process involved.
If you want to install it as a DIY project and you think you have a steady hand to do this job, you will need to buy the chameleon film roll that you need along with some necessary tools such as a heat guns for window tinting.
Chameleon Tint Film Quality 
The old saying "You get what you pay for" is certainly true here. You may be able to find some inexpensive chameleon tint films for your car, though you may have to compromise on the look, quality, and functionality. 
A higher-quality film will often last longer, look better, and perform better at blocking our more light.
Top Chameleon Tint Brands
There are several quality chameleon tint brands that you can purchase online. For example; 
 This is a beautiful chameleon tint shade with a purple and blue color gradient.
ATMOMO is a high-quality product that's film features include blocking UV rays and harmful sunlight thus protecting your vehicle interior for longer.
Pricing varies depending on how much film you need.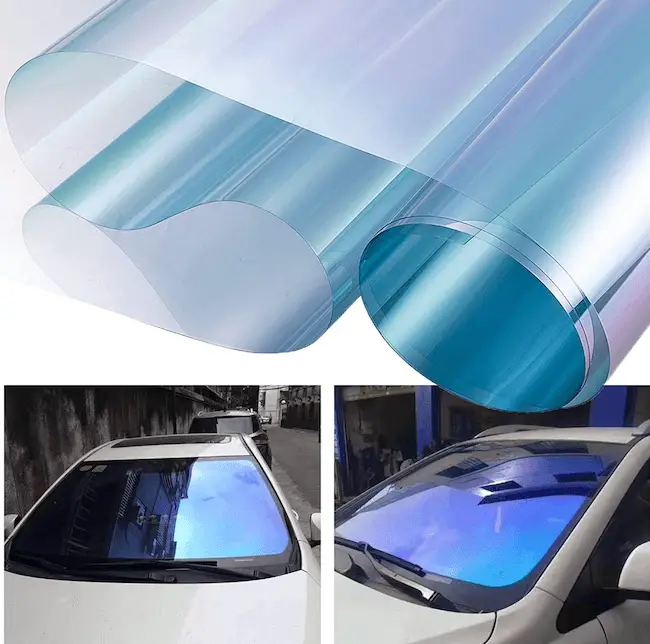 XhuangTech is a well-known high-quality window tint film manufacturer. 
This particular deep blue chameleon tint shade has a cool reflection effect, excellent heat, and scratch resistance.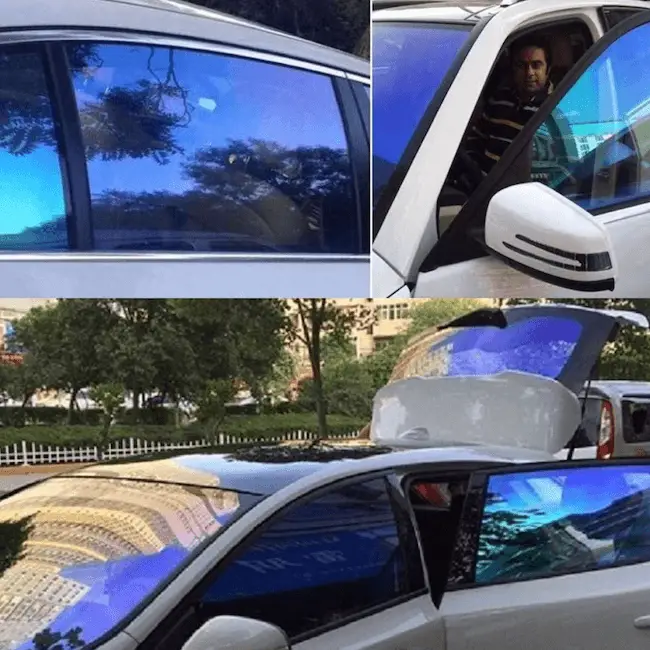 JDM BESTBOY is a reputable brand that offers chameleon window film in multiple sizes with your standard cold colors (green, blue, and purple).
This is a self-adhesive film which means you just have to peel and paste. 
It's a multipurpose tint film and the high-level blockage of up to 80% UV rays makes this specific tint film worth investing money.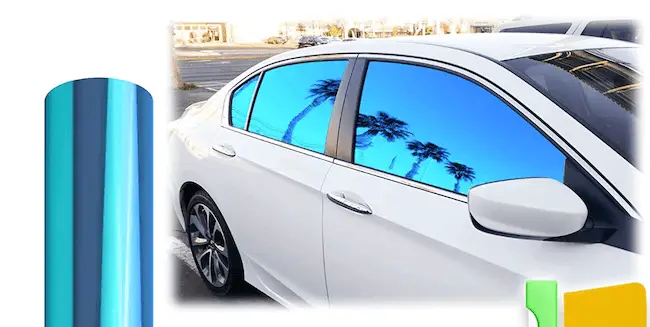 Conclusion
No doubt Chameleon window film will turn heads and can be a big attention-getter in the world of window tinting.
There is a great selection of options online that you can review and read other customers' feedback on and have it shipped directly to your door.
The installation process is very similar to your traditional tint film application methods.
Alternatively, contact your local tint shop as they may have a few different brands you can physically check out or at least have pictures of cars with different chameleon tints applied.
Some folks even apply chameleon tint on their headlights!